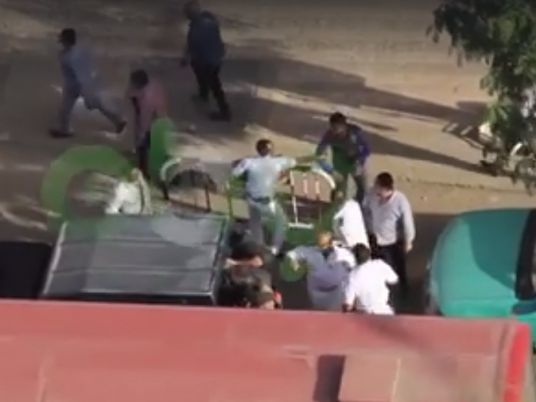 A short video went viral on social media Tuesday showing security forces arresting a passerby at random with no apparent cause, causing an outcry from Facebook users who declared the incident a blatant violation of the law by the police.
The 30-second-long video showed footage of a young man walking down a street on Sunday, happening to pass by a police van, only to find himself taken hold of by a police officer and forcibly dragged into the van.
The video was posted by a film editor called Farouk, who was filming in the area during police dispersals of the April 25 protests.
Sunday saw a large number of police and security forces deployed around Cairo and in cities the countrywide in anticipation of planned protests, led in part by the April 6 Youth Movement, against the polemic maritime border agreement signed between Saudi Arabia and Egypt earlier this month.
An anonymous Interior Ministry source reported that Security forces had arrested 100 people in nine provinces during protests. A security source in Alexandria said 25 protesters were arrested in the city. Those arrested are released after their identities have been confirmed and they have been interviewed by police, according to the source. The protestors were detained for allegedly demonstrating without prior permission, blocking roads and assaulting security personnel, said the unnamed source.
Following a series of recent crackdowns on protestors, in addition to several media-covered incidents of police brutality, eyes were on the police during Sunday's protests. The head of the Human Rights Committee within the Egyptian Parliament, Mohamed Al-Sadat, wondered whether, in Friday's charged atmosphere, security forces were overly alert.
"This kind of disorder is not acceptable if the young man was genuinely a passerby. It is incidents such as this that evoke people's anger," Sadat told Akher Al-Nahar talk show.
He went on to add, however, that the police officers could have been tracking the young man, and this was not in fact a random arrest.