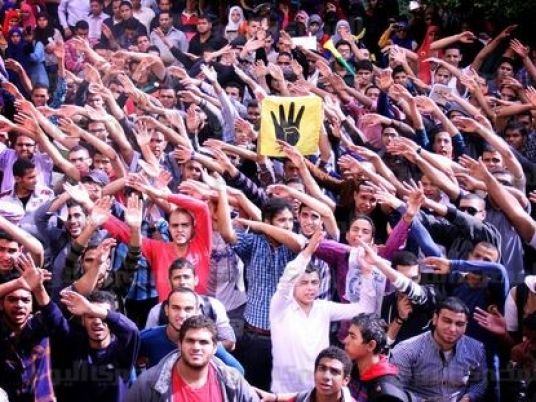 The Youth against the Coup movement that is loyal to the Muslim Brotherhood has warned of a sweeping uprising after the breaking of the Ramadan fast from al-Qaed Ibrahim Mosque in Alexandria on the first day of Ramadan and in all squares a streets of the country to begin a wave of anger that would end in Tahrir Square on 3 July.
The movement said in a statement on Monday that it will continue to mobilize for a revolution until retribution for the martyrs is achieved and called on all free Egyptians to join it.
The movement decided to change the timing of demonstrations from after the Friday prayer in the daytime to the evening in order to avoid high temperatures and security restrictions.
Members of the movement are often chased by pro-military residents in certain neighborhoods, such as the Faisal and Pyramid neighborhoods and other places in Alexandria.
The Muslim Brotherhood is also meeting to determine certain places it should avoid due to a heavy security presence or where President Abdel Fattah al-Sisi is popular.
Ibrahim al-Mahlawy of the Brotherhood youths said the group is commemorating the fourth anniversary of the Rabaa Square dispersal by escalating demonstrations against the police and the regime that insist on punishing all those who took part in the 25 January revolution, as he put it.
The group is talking with other revolutionary forces to join it on 3 July and defy the protests law.
Meanwhile, the dissident Brotherhood without Violence movement warned of violence by the Muslim Brotherhood on 30 June. "Group leaders in Qatar ordered massacres in Ramadan," said movement founder Hussein Abdel Rahman urging the police to take preemptive measures.
Edited translation from Al-Masry Al-Youm