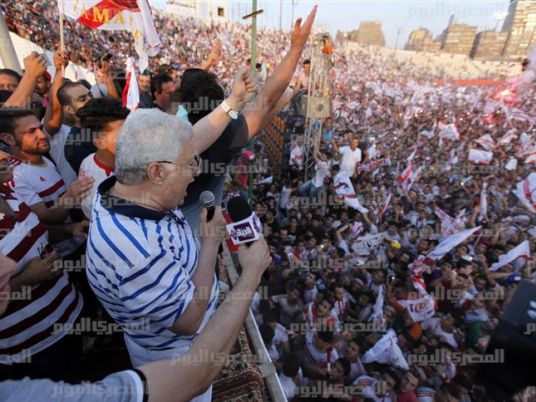 Cairo giants Zamalek said Tuesday they were retracting their decision to withdraw from the Egyptian league announced in protest at the refereeing of their 3-2 defeat to Tala'ea El-Gaish.
Club chief Mortada Mansour told reporters that the reigning champions will play their scheduled match against Ghazl El Mahallah on Wednesday.
On Monday, the club's board had said the team would withdraw from the league after raising objections to the referee's "wrong" decisions during Sunday's match of sending off defender Ali Gabr and awarding Tala'ea a penalty.
It said it had objected against the choice of the referee, Mahmoud al-Banna, prior to the match.
On Tuesday, Mansour told reporters that Zamalek will play Wednesday's match, but he will file a complaint to the general prosecutor against "the biggest corruption case in Egyptian sport".
He said he had recordings and documents that proved that "some referees have taken bribes" and that he "would identify these referees and all those involved in these cases".
During Sunday's match Tala'ea scored two penalties after six and 56 minutes.
The first penalty came after the referee ruled that Gabr had tripped an attacker.
Banna awarded Tala'ea another penalty when Hazem Imam blocked Alaa Ali in the penalty box.