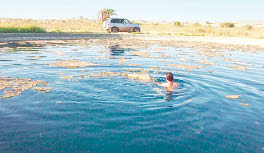 We've covered a number of local destinations this year in the travel section — from east to west and north to south — and while the holidays offer a little time to get out of town, the last thing you want to worry about when traveling with children is safety. Egypt has a lot to offer when it comes to different terrains and sites — here are some of our favorites from 2012.
Soma Bay
This all-encompassing enclave by the Red Sea is still in its finishing stages but has lots to offer for the entire family. Depending on your choice of hotel, you can do water sports, use the aqua spa or dine at different restaurants around the bay. Soma Bay may not yet be as sophisticated as Gouna or as expansive as Hurgada, but each hotel goes out of its way to make sure that you and your family are enjoying your vacation.
Siwa
For more adventurous travel, head to Siwa. Rent bikes from a hotel or from any bike rental place in the town center and bike around to Shali (an ancient fortress) or take a dip in a natural spring. Other spots to see include Temple of the Oracle, Fatnas Island and Abdu's Restaurant, a lunch spot with traditional Egyptian food.
Aswan
Whether you take a cruise down the Nile or settle into Aswan for the holidays, the weather in the south is great this time of year. Fly into Aswan and settle at the Movenpick, Aswan's most child -friendly hotel. Day trips to Nubian Village and to see Abu Simbel are worth the effort and the city's natural beauty will replenish your energy.
This piece was originally published in Egypt Independent's weekly print edition.