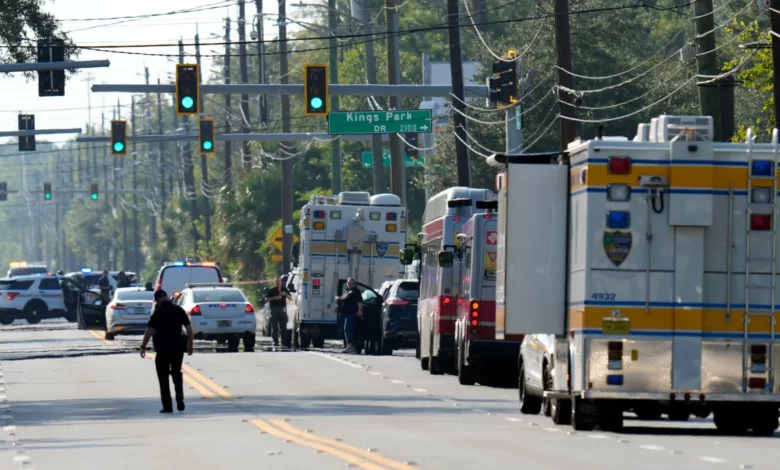 CNN
 —  Three people were killed Saturday in a racially motivated attack after a gunman targeted Black people at a Dollar General store in Jacksonville, Florida, in one of several weekend shootings that again shocked Americans in public places – from stores to football games to parades.
"This shooting was racially motivated and he hated Black people," Jacksonville Sheriff T.K. Waters said at a news conference early Saturday evening.
Waters said the shooter, who he described as a White man in his 20s, shot and killed himself after the attack. The suspect left behind what the sheriff described as three manifestos outlining his "disgusting ideology of hate" and his motive in the attack.
All three victims, two men and one woman, were Black.
Waters said the shooter lived in Clay County, Florida, south of Jacksonville, with his parents. Jacksonville is located in northeast Florida, about 35 miles south of the Georgia border.
Waters said the shooter told his father by text to "check his computer." The father found documents described by Waters as manifestos and called authorities.
But Waters said by the time authorities were alerted about the manifestos, the gunman had already started the attack in the Dollar General.
The shooting started shortly after 1 p.m. ET, blocks away from Edward Waters University, a historically Black school where students living on campus were told to stay in their residence halls. Waters said the gunman was seen on the school's campus before heading to the Dollar General. No one was injured on the campus.
"He took that opportunity to put his bulletproof vest on outside and to put his mask on outside and then proceed to the store where he committed this horrible act," Waters told CNN's Jim Acosta.
Edward Waters University officials said the shooter was turned away from its campus after refusing to identify himself.
"The individual returned to their car and left campus without incident. The encounter was reported to the Jacksonville Sheriff's Office by EWU security," according to a university news release.
Jacksonville Mayor Donna Deegan said the gunman barricaded himself inside the store after the attack. It was not immediately clear if victims were shot inside or outside the store.
The sheriff said investigators believe the gunman acted alone and wore both a tactical vest and mask during the attack. He was armed with an AR-15 style rifle and a handgun.
Waters showed photos of the weapons during a news conference, which showed swastikas were drawn on one of the guns with white paint.
"We have opened a federal civil rights investigation, and we will pursue this incident as a hate crime," said Sherri Onks, special agent in charge of the FBI's Jacksonville office.
Shooter was previously evaluated for mental health crisis
Authorities have not yet officially identified the suspect but have been in contact with his parents, Waters said.
The shooter was the subject of a 2017 law enforcement call under the Baker Act, which allows people to be involuntarily detained and subject to an examination for up to 72 hours during a mental health crisis.
Waters did not provide details on what led to the Baker Act call in that case. He said normally a person who has been detained under the Baker Act is not eligible to purchase firearms.
It didn't appear that the shooter knew the victims, according to authorities.
Deegan said the shooter's writings indicated he was aware of a mass shooting at a Jacksonville gaming event where two people were killed exactly five years earlier, and may have chosen the date of his attack to coincide with that anniversary.
The sheriff said those writings will be released to the public at some point. "I'm a big believer in transparency," he said.
Florida Gov. Ron DeSantis on Saturday condemned the shooting and called the gunman "scumbag" while offering condolences to the victims and their families.
"He was targeting people based on their race. That is totally unacceptable. This guy killed himself rather than face the music and accept responsibility for his actions, and so he took the coward's way out. But we condemn what happened in the strongest possible terms," DeSantis said, according to a video statement sent to CNN by the governor's office.
Florida State Sen. Tracie Davis, whose district includes Jacksonville, called the shooting a "tragic day" for the city in a post on X, the platform formerly known as Twitter.
"I'm offering prayers to the families of the victims and am on my way to meet with (Jacksonville Sheriff T.K. Waters) for answers," Davis posted Saturday.
"This type of violence is unacceptable in our communities," Davis added.
A weekend of gun violence
There have been at least 470 mass shootings in the United States so far in 2023, according to the Gun Violence Archive, which defines a mass shooting in which four or more people are injured and or killed, not including the shooter. The nation surpassed the 400 mark in July, – the earliest month such a high number has been recorded since 2013, the group said.
The gun violence in Jacksonville marked one of several reported shooting incidents in the US over two days, including in Massachusetts and Oklahoma. Shots rang out across several cities, bringing a startling halt to normal summertime activities like high school football games and weekend shopping.
In Boston, at least seven people were injured Saturday morning in a shooting that interrupted a popular parade, police said. A high school football game in Choctaw, Oklahoma, took a deadly turn Friday night after a possible argument led to three people being shot, authorities say. One of them – a 16-year-old boy – died. And Four people, including a 17-year-old, were killed at an apartment in Joppatowne, Maryland, Saturday morning, officials said.