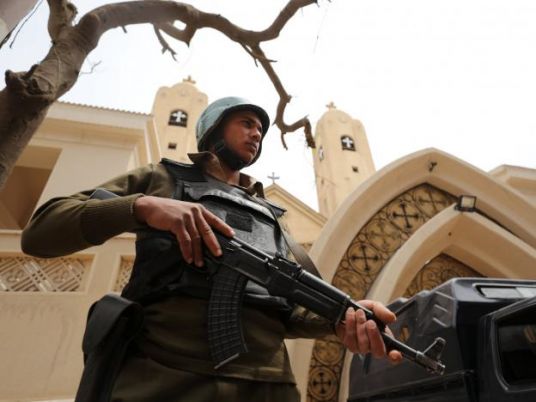 A survey carried out by The Egyptian Center For Public Opinion Research (Baseera) revealed that 63 percent of Egyptians believe that the adoption of the three-month state of emergency will help combat terrorism, whereas 17 percent believe it won't be effective.
Following Sunday's attacks on Coptic churches in Tanta and Alexandria that left at least 44 people dead and over 100 injured, Egyptian President Abdel Fattah el-Sisi declared a three-month state of emergency nationwide.
The independent polling centre said in a Wednesday statement that 20 percent did not know if the state of emergency would be effective enough to wage a war on terror.
According to the results of the Baseera survey, 94 percent of Egyptians knew about the twin attacks in Tanta and Alexandria on Sunday. When it comes to who is responsible, 71 percent could not identify a party behind the bombings, whereas 11 percent believed the Muslim Brotherhood were behind the deadly attacks. Nine percent thought the Islamic State carried out the attacks, and five percent said they were carried out by extremist groups. Only three percent claimed that other countries are behind the bombings.
Baseera found out that 60 percent of Egyptians who approve the enactment of an emergency state are young people between the ages of 18 and 29, while 67 percent of those who approve are 50 years and older.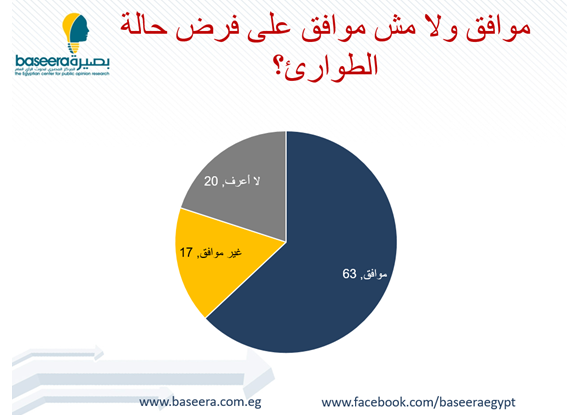 The people surveyed were also asked about certain security measures which they view as vital following the church attacks. Sixteen percent believed that tightened security measures should be adopted throughout the entire country, whereas 14 percent said that church security should be heightened specifically. Four percent believed that death penalties should be passed and only 3 percent believed that reform in religious discourse is key to combatting terrorism.
Half of the respondents could not identify any actions to be taken.
The poll, which was conducted over the phone between April 10-11, had a sample of 1,228 citizens over the age of 18 across all Egyptian governorates. Egypt has a population of over 90 million according to the Central Agency for Public Mobilization and Statistics (CAPMAS), the state census authority, making the scope of the Baseera poll quite limited.
Baseera stated that the survey's margin of error was less than 3 percent and that they only had a 42 percent response rate from people they attempted to collect information from.