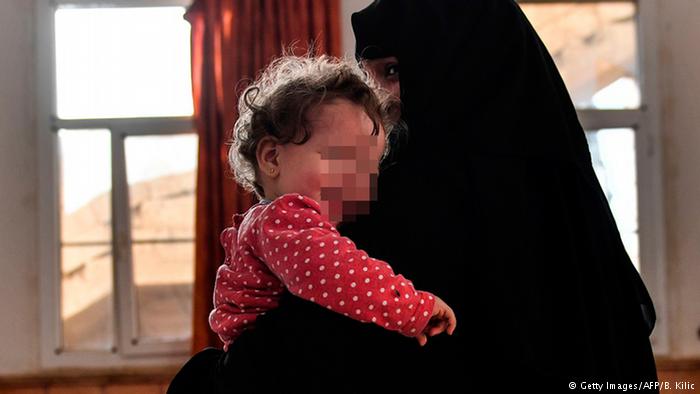 Hundreds of foreign women who joined the "Islamic State" (IS) militant group with their children have been captured in recent months by US-backed Kurdish forces in northern Syria, Germany's Die Weltnewspaper reported on Saturday.
The German daily interviewed Human Rights Watch's terrorism and counterterrorism program director, Nadim Houry, who spoke with many of the women during visits to several detention camps in Kurdish-held areas of the war-ravaged country last month.
"About 800 IS women with children are in four camps … they come from around 40 countries. There are women from Canada, France, Great Britain, Tunisia, Yemen, Turkey and Australia," he said, adding that 15 were from Germany.
Houry described how the women and their children were being held at large detention sites, where they have a certain amount of freedom but are not allowed to leave. They are being held away from captured IS fighters, he added.
Subjected to violence 
Some women he interviewed complained that they had been "beaten and humiliated" during interrogations and were forced to live in unhygienic conditions with their recently born babies.
"These women are in a very difficult situation. For the little kids especially, the circumstances are by no means good," Houry told Die Welt.
The terrorism expert said the women now want to return to their home countries, even if it means facing criminal charges.
"Some women at least want to send their children home," he told the paper, before calling on European governments to allow the children to return.
"The children have not committed any crimes, they are the victims of the war and often their radicalized parents," he said.
Houry told Die Welt that Kurdish authorities had little interest in prosecuting the women, and instead were keen to transfer them to their home nations.
Not welcome at home
But Kurdish officials face strong resistance from several originating countries, including France, Britain and Belgium, who are currently dealing with thousands of returning male jihadi fighters from Syria and Iraq, who were imprisoned or escaped the conflict as IS lost ground during the last two years.
The French government, for example, has called for French jihadists arrested in Syria and Iraq to be tried there if they can be guaranteed a fair trial.
Last month, an Iraqi court sentenced a German woman to death by hanging after finding her guilty of belonging to the jihadi group, the first such sentence in a case involving a European woman.
Read more: German jihadi schoolgirl could face jail in Iraq: journalist
Previous reports have revealed how hundreds of Western women have traveled to the Middle East to join IS since the radical Islamist group declared its caliphate in the two war-torn countries in 2014.
Although some were recruited as fighters, most married male IS militants and have found themselves isolated and living in appalling conditions.
In December, Iraq's government declared victory in the fight against IS, which at its peak, captured a third of Iraqi and almost half of Syrian territory. With the Islamist group's de-facto capital Raqqa lost in October, IS has been contained to just a few pockets of land in Syria, mostly around the Iraqi border.