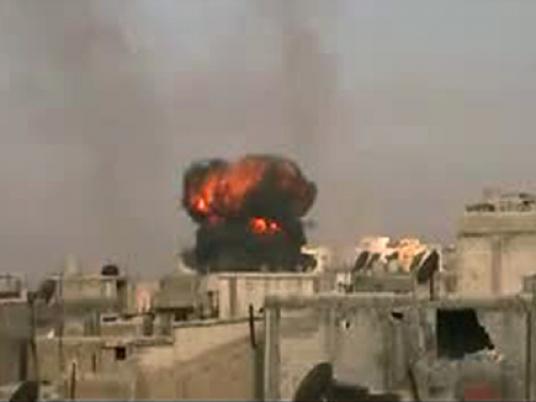 Syrian troops shelled Saturday two rebel-held neighborhoods in the central city of Homs in an apparent violation of an internationally brokered cease fire, activists said.
The reports came two days after the cease-fire brokered by international envoy Kofi Annan went into effect. The violence in Syria since then has been much less than the daily norm of clashes and shellings before the truce.
The regime restricts access of foreign observers, including journalists, making it difficult to verify reports of violence independently.
The Britain-based Syrian Observatory for Human Rights said the shelling lasted for about an hour and there were no reports of casualties. Activist Tarek Badrakhan, who is based in the rebel-held Homs neighborhood of Khaldiyeh, and the Observatory said the shelling targeted the neighborhoods of Jouret el-Shayah and Qarabees.
The shelling in Homs came as the United Nations Security Council prepared to vote on a resolution authorizing the deployment of the first wave of UN military observers to monitor the cease-fire between the Syrian government and opposition fighters.
The truce is at the center of Annan's peace plan, which is aimed at ending more than a year of bloodshed that according to the UN has killed over 9,000 people. The plans then aims to launch inclusive Syrian-led talks on the country's political future.
The uprising began last year with mostly peaceful protests against the Assad family dynasty, which has ruled Syria for more than four decades. But the government's violent crackdown fueled an armed insurgency as army defectors and protesters began fighting back.
On Friday, Syrian forces used live fire, tear gas and clubs to beat back tens of thousands of protesters who took to the streets across the country in powerful and often jubilant displays of defiance.
The Local Coordination Committees activist group said there were 771 demonstrations throughout Syria on Friday, a number that is larger the protests of the weeks before.
Activists said security forces killed at least six people Friday, a lower-than-usual toll. The rallies, described as some of the largest in months, stretched from the suburbs of Damascus to the central province of Hama, Idlib in the north and the southern province of Daraa, where the uprising began in March 2011.
The Observatory said Saturday that troops were conducting a wave of arrests in the Damascus suburb of Dumair when a car exploded killing one civilian and wounding two others. It gave no further details.
In Homs, which has been one of the hardest hit areas in Syria in the past 13 months and became the symbol of Syria's uprising, the sporadic shelling started Friday night and continued into Saturday morning, Badrakhan said.
"I can see black smoke billowing from a building that was hit in Jouret el-Shayah," Badrakhan told The Associated Press via Skype.