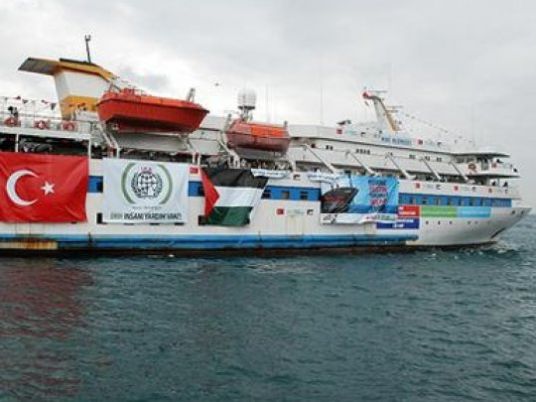 Activists aboard a flotilla of boats are to soon set sail for Gaza in a fresh bid to break Israel's blockade of the territory, five years after a similar attempt ended in a deadly raid.
The so-called Freedom Flotilla III — a convoy of ships carrying pro-Palestinian activists, at least one European lawmaker and an Arab-Israeli MP — will try to reach the shores of the Gaza Strip by the end of the month.
Their campaign comes as Israel faces heavy international pressure over its actions in Gaza, with a UN report released Monday saying both the Jewish state and Palestinian militants may have committed war crimes during last year's conflict in the besieged coastal enclave.
Israel's blockade of the territory dates to 2006, after Hamas captured an Israeli soldier, and was tightened a year later when the Islamist movement consolidated control of Gaza.
"We're not alone in considering the blockade to be inhumane and illegal," Staffan Graner, an activist who is sailing aboard Swedish trawler the Marianne of Gothenburg, told AFP.
"What we want to do… is to keep up international pressure that the blockade should end," he said.
The Marianne of Gothenburg, which set sail from Sicily on Friday, will join four other vessels carrying some 70 people en route for Gaza, according to a statement from the Platform of French NGOs for Palestine, an advocacy group supporting the effort.
Among those aboard will be former Tunisian president Moncef Marzouki, Spanish MEP Ana Maria Miranda Paza and Arab-Israeli lawmaker Basel Ghattas, organisers said.
Ghattas's decision to join the flotilla caused outrage in Israel.
On Sunday, deputy foreign minister Tzipi Hotovely said the flotilla was "the work of provocateurs whose aim is to blacken Israel's face," adding that the ministry had been working "through diplomatic channels night and day" to prevent it from reaching Israeli waters.
In a letter to Prime Minister Benjamin Netanyahu, Ghattas urged that he "command the Israeli security forces to stay away and allow the flotilla to arrive at its destination."
"Any form of takeover to prevent this will only involve Israel in yet another difficult international crisis or scandal," he warned.
– 'Violence would be stupid' –
Ghattas was referring to the killing of 10 Turkish activists aboard the Mavi Marmara after Israeli commandos staged a botched pre-dawn raid on a six-ship flotilla seeking to break the Gaza blockade in May 2010.
Since then, several ships manned by pro-Palestinian activists have tried to reach the shores of Gaza, but they have all been repelled by the Israeli navy.
Activists in the Freedom Flotilla III are undeterred.
They say the international pressure Israel faces after the latest conflict Gaza, along with the uproar the 2010 raid caused, make it unlikely it will use violence this time.
The International Criminal Court said last year that war crimes may have been committed in the 2010 raid — though the chief prosecutor decided that potential cases were not of "sufficient gravity" to justify further ICC action.
"One has to be realistic," Graner said.
"We know that we're sailing towards a blockade that is upheld essentially by two large military forces," he said, referring also to Egypt's navy.
Activists have accused Egypt of helping to enforce the blockade, although Cairo denies involvement.
"We think Israel lost a lot by the violence that they used in 2010. It would be extremely stupid of the Israelis… to use violence against us."
– 'End the siege' –
Israel has in recent weeks been on the defensive over actions during the July-August war, where the majority of the 2,200 Gazans killed were civilians. Seventy-two Israelis were killed, 67 of them soldiers.
In anticipation of Monday's UN report, Israel cleared itself of wrongdoing in a number of controversial incidents, including the bombing of UN schools being used as shelters for the displaced.
Israel says it was forced to target the schools' vicinities because of actions by Hamas, which allegedly stored weaponry and fired rockets from UN institutions.
Some 100,000 Gazans remain homeless, with the reconstruction of tens of thousands of homes yet to begin. Israel's ongoing blockade, now in its ninth year, has been blamed as well as a lack of international donor support.
Israel says more than 1.1 million tonnes of construction material have been allowed in since October 2014, along with food and other supplies.
Critics of the blockade have called for it to be fully lifted to allow reconstruction, warning that without it an ongoing humanitarian crisis could fuel further conflict.
Some "1.8 million Palestinians (are) living in disgraceful, prison-like conditions as a result of Israel's military siege of both sea and land," Ghattas said in his letter to Netanyahu.
"The third freedom flotilla carries humanitarian aid for the residents of the strip and aims to end the siege."