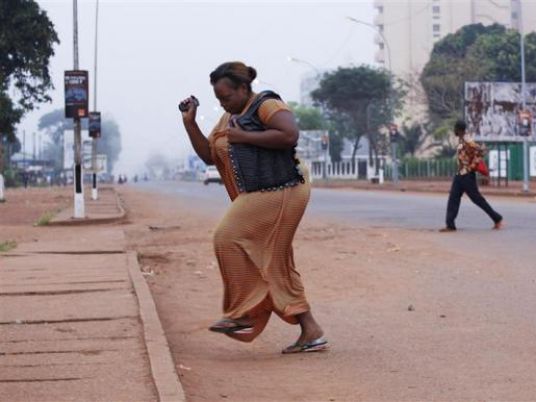 The Central African Republic's interim president accused armed groups on Friday of seeking to destabilise her government, as two people were shot dead by Burundian peacekeepers in a second day of violent protests in Bangui.
Tensions have soared in the mostly Christian capital after Muslim gunmen attacked a church in its Fatima neighbourhood on Wednesday, killing at least 17 people and abducting 27 others, according to UN officials.
Thousands marched through the centre of Bangui on Friday to demand the resignation of Interim President Catherine Samba-Panza and the withdrawal of the Burundian contingent of an African Union peacekeeping mission, accused by the city's Christian majority of favouring Muslims.
In an address to the nation, Samba-Panza promised that those responsible for Wednesday's attack on Our Lady of Fatima – which lies on the edge of the embattled PK5 Muslim neighbourhood of Bangui – would not go unpunished.
"Inter-community hatred is being exploited shamelessly by the enemies of peace who want to trigger another transition government and who are sparing no effort to undermine the actions of current transitional authorities to reconcile Christians and Muslims," she said.
One of the most coup-prone African states, the Central African Republic has been beset by conflict since independence in 1960 as armed groups have battled for control over its deposits of gold, diamonds, uranium and, most recently, oil.
Protesters – angry at international peacekeepers' failure to end more than a year of simmering sectarian violence in the landlocked nation – burnt tyres and erected barricades on the main streets of Bangui for a second day.
A spokesman for the African Union peacekeeping mission (MISCA) said Burundian troops opened fire after being shot at by members of a crowd who attacked their base, next to the UN mission in the centre of town.
"There were two people killed and two wounded amongst the assailants," spokesman Francis Che told Reuters by telephone. "The crowd has dispersed. We recovered two weapons and a hand grenade."
However, the protesters said they were unarmed and had come to hold talks with the head of the UN mission.
"We gathered here this morning, with women and children and with no weapons, and the Burundians killed five people," said Eric Sako, a businessman. "We were in the UN offices trying to explain things, and they opened fire on us."
Hatred exploited
A former French colony of some 4.5 million people, the country has been gripped by ethnic and religious violence since northern Seleka rebels, who are mostly Muslim, seized Bangui in March 2013.
The Seleka left power in January under international pressure and since then anti-balaka Christian militias have preyed on Muslims in the capital. Those attacks have largely driven Muslims from Bangui and the west, effectively partitioning the country, whose east is controlled mainly by Seleka.
In her address to the nation, Samba-Panza declared three days of national mourning for Wednesday's attack and urged protesters to remove the barricades from Bangui's streets. French peacekeepers used bulldozers to remove burning tyres and barriers on Friday.
The church attack – the worst on the Christian population since Seleka left power – stoked frustration at Samba-Panza's failure to return peace to country, despite the presence of 2,000 French troops and 6,000 African Union peacekeepers.
A former mayor of Bangui, Samba-Panza is tasked with steering the country to elections due in February 2015.
Some 5,000 Christians displaced by violence were sheltering in the church at the time of the attack, which came after hours of skirmishes between anti-balaka Christian militia and Muslim residents.
Fatoumata Lejeune-Kaba, a spokeswoman for United Nations refugee agency (UNHCR), told a news conference in Geneva that at least 17 people were killed in Wednesday's attack on the church, while 27 others were abducted.
"In the past, when we heard about abductions, sometimes people asked for ransom," she said. "But sometimes people disappeared and were never found again."