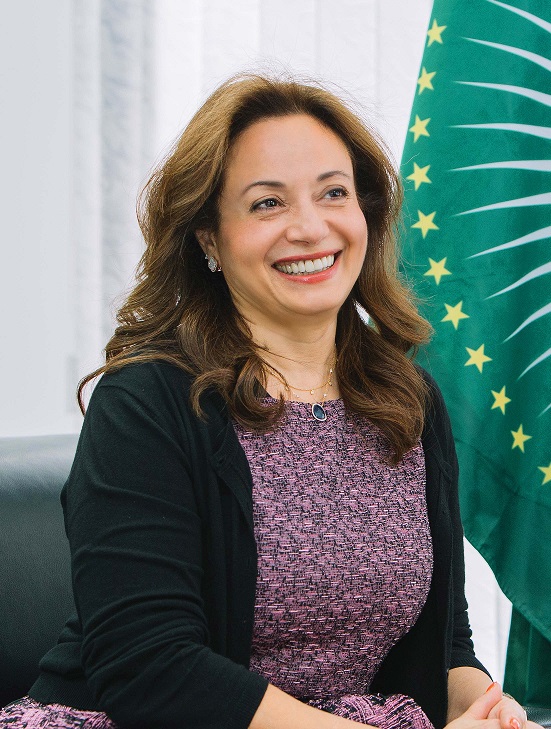 On August 6, the leading PR and Rating Firm Avance Media chose Amani Abou-Zeid, renowned Commissioner for Infrastructure and Energy at the African Union Commission (AUC), among the 100 Most Influential African Women (100MIAW) in 2019. 
Avance Media has long changed the lives of thousands of women in Africa by establishing initiatives that not only celebrate success stories of African women, but also demonstrate the "individual and collective works" of women in a way that motivates the future leaders of Africa.
Abou Zeid was the only Egyptian honoree selected. Her name appeared on the list along with that of Aya Chebbi, the first Tunisian to be chosen as an African Union Youth Envoy and the youngest diplomat in the African Union Commission Chairperson's Cabinet. These women were the only two North African recipients of the honor. 
Abou-Zeid is an experienced telecommunications engineer with an MBA in project management from the French University for African Development, Université Senghor. She acquired a masters degree in Public Administration from Harvard University and a Ph.D. in Social and Economic Development from the University of Manchester, UK. She furthermore attained a degree in Arts from Université Sorbonne-Paris IV.
Before becoming a member of the African Union Commission in 2017, Abou-Zeid took on several directorship roles at leading international enterprises, including the African Development Bank (AFDB), UNDP, and USAID with the goal of developing infrastructure and enhancing energy schemes. 
Her focus was instituting large-scale international programs and initiating and maintaining strategic confederations. Amani Abou-Zeid participated in the annual meetings of the World Bank Group and the International Monetary Fund that took place in Washington, DC on April 9-14, 2019, where she highlighted critical global issues such as "the world economic outlook, growth and poverty, fragility and conflict, and power of technology, the achievement of Sustainable Development Goals and investment in human capital," according to the African Union Press Release 2019. 
Among other works in her field in many countries around the globe, she had a huge role in establishing the world's largest solar power complex (Noor) in 2018 in Morocco. 
In recognition of her directorship and distinguished work, Abou-Zeid has been honored by several international awards, one of which was "Officier de l'Ordre de Wissam Alaouite" from His Majesty King Mohamed VI of Morocco. She was also endorsed as a Young Leader of the world by the European Union.
The National Council for Women, headed by the Chairperson Maya Morsi, extended their sincerest congratulations to AU Commissioner Abou-Zeid for her great achievements in the fields of infrastructure, energy, information, communication, technology and tourism and for her selection among the 100 Most Influential Women in Africa. 
According to Avance Media, Prince Akpah, Founder and Managing Director of Avance Media, stated that the 100MIAW represents great achievements by 100 women from 35 African countries who are altering traditional perspectives on women and enhancing their roles in African societies. 
He added that among the listed were presidents, philanthropists, diplomats, CEOs, commissioners, and scholars, many of whom were eager to offer advisory programs to instruct prospective young African women through the Be A Girl mentorship program. 
Distinguished among them are Ethiopia's President H.E. Sahle-Work Zewde, Namibian Prime Minister RT. Hon. Dr. Saara Kuugongelwa-Amadhila, and United Nations Deputy Secretary-General H.E Amina J. Mohammed. Young women activists were also featured on the list, including Farida Bemba Nabourema and Ilwad Elman.
Photo credit: Broadband Commission official website.