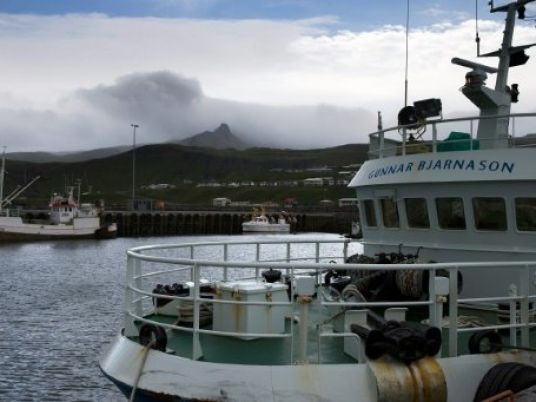 In Iceland's small harbors, a Russian embargo on European fish imports isn't just a headache for fishermen — it's a headache for everyone.
"Of course we're worried," says Astvaldur Sigurdsson, a grocer in Neskaupstadur, a town of 1,500 people nestled in a cove in eastern Iceland.
"This is bound to lead to lower income."
Russia suspended food imports from most Western countries in August 2014 in retaliation for sanctions the West imposed on Moscow over its role in the Ukraine crisis. Iceland has been on the blacklist since August 2015.
The embargo has dealt a harsh blow to the crucial seafood exports of a country which had invested heavily in the Soviet market in the 1980s, following a thaw in ties between the United States, a Reykjavik ally, and Moscow.
Iceland's fish exports to Russia more than halved, from 118,000 tons in 2014 to 50,000 tons in the first 11 months of 2015, according to official statistics.
The value of the exports plummeted over the same period to 10.3 billion kronur (70 million euros, US$77 million) from almost 24 billion.
It may not seem like much, but Russia accounts for 10 percent of Iceland's fish exports — which in turn make up 40 percent of its overall exports.
After the North Atlantic island's 2008 banking and financial collapse, fishing has become the country's biggest industry.
And those figures exclude the Icelandic fish shipped to other European ports, from where it was sent to Russia before the import ban.
"Sanctions like these and our symbolic participation in them is not going to lead to a solution in the Crimean dispute. There is no way of telling how long these sanctions will last," lamented Fisheries Iceland.
The biggest impact has been on the export of pelagic fish — ocean fish which swim neither close to the bottom nor near the shore, such as mackerel, herring and capelin.
Pelagic fishing is run by big established companies that can get by despite the embargo, but Russia accounted for 40 percent of mackerel exports before the sanctions.
The loss of income has been heavy not only for the companies, but for local authorities seeing their tax revenues eaten up.
Boon for the Faroe Islands
With a fleet of seven trawlers registered in Neskaupstadur, Sildarvinnslan (SVN) is one of the heavyweights in Iceland's fishing business.
Chief executive Gunnthor Ingvason has looked around for other markets to try to diversify distribution, but he's facing tough competition from foreign fishermen also looking for new opportunities.
"With increased production from our pelagic stocks for human consumption, the share of the Russian market in the company's turnover has grown significantly," Ingvason said.
The devaluation of the Icelandic krona at the end of the 2000s did not help either.
"The ban closes down all sales of frozen products into our most important market," he said.
Mackerel, cod and herring can usually be sold elsewhere than Russia, albeit at much cheaper prices, but red snapper and capelin — appreciated by Russians for their eggs — are harder to sell. SVN has seen its sales revenues plunge by 35 percent for mackerel and herring, and by 50 percent for capelin.
"The losses in capelin production will hit the communities and the employees hard, in lower income," predicted Ingvason.
For his company, that means 80 people on shore and 32 at sea will be affected, not to mention all the others who depend on the activities of a fishing port, such as shopkeepers and suppliers.
A standoff has pitted fishermen against Foreign Minister Gunnar Bragi Sveinsson, who has accused them of defending their own "private interests" over those of Iceland.
The country's woes have meanwhile been a boon for the Faroe Islands, an autonomous Danish territory unaffected by the sanctions and therefore able to pick up some of Russia's demand.
Its overall cod exports rose by four percent in the first three quarters of 2015 from 2014, but prices have surged by 16 percent in a year.
"The main change was not how many products we sold but the price," a Faroese government source said.
As far as Astvaldur Sigurdsson is concerned, "the authorities should never have gotten involved. We have no business in this military tussling".