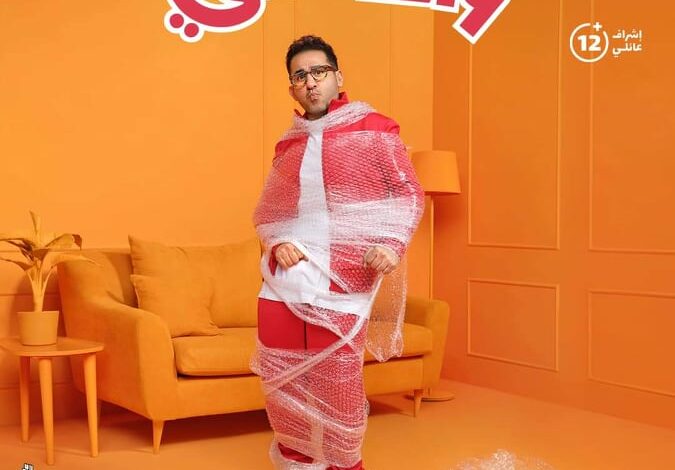 Although "Wahed Tani" (Someone Else), the latest film starring actor actor Ahmed Helmy, topped the revenues of the Eid al-Fitr movie season 2022, its reception has been marred by criticisms of inappropriate content.

Helmy returned after an absence of nearly three years with a movie full of sexual overtones, causing outrage from fans of the star who feared he had changed.

Critics said the film was not suitable for children and families, unlike Helmy's previous movies.
On Helmy's official Facebook page a disgruntled fan wrote: "Unfortunately, Helmy is really someone else in the movie. Sexual references are too many and it is totally inappropriate. We lost an actor who presented clean works, and for me he moved to the opposite camp."
"The movie was better than 'Laff w Dawaran' and 'Khayal Maata', but it did not reach the top like Helmy's old movies."
Another comment lamented a change in the actor's style of humor: "The movie depends for the larger part of its comedy on 'references' that may not suit many. It contains audacity from Ahmed Helmy that I did not see before, and I do not know if I like it or not. It's a nice and light movie, but not 'wow."
One fan criticized the movie's lack of family appeal, writing: "The movie is light, but not a great comedy, if you have expectations. But unfortunately the movie is full of clear and explicit references that are completely unacceptable… and it is very strange that 70 percent of the comedy is suggestive. This is a point that I absolutely did not like, because if you watch it with your fiancée or your sister, you would be so embarrassed. Not a family movie at all, unfortunately."
"Ahmed Helmy needs today, not tomorrow, to perform a "restart"… an urgent factory reset for all expression tools… There's no story or dialogue… so what is Helmy betting on?," a fan wrote.
"After 'Wahed Tani' movie, I see that Ahmed Helmy, even with using sexual innuendos, is not funny, and this is not in his favour," another commented.
"Wahed Tani" recorded LE1.5 million in revenues during the Eid al-Fitr holiday, and as it continues to top Eid movies in cinemas across Egypt.
This year's Eid al-Fitr season continues to achieve good revenues, in a marathon that a large number of critics expect to witness record revenues.
"Wahed Tani" stars Helmy, Amr Abdel Gelil, Mahmoud Hafez, Sayed Ragab, Ruby and Nesreen Amin, written by Haitham Dabour, and is directed by Mohamed Shaker Khudair.
It recorded on the second night of Eid al-Fitr five million LE in revenue, after it approached two million LE on the first day of its screening.
Many films were excluded from the show during the Eid al-Fitr season due to the decline in its revenues in previous seasons, including "Hamel Ellakab" (The Title Holder), starring Hisham Maged, Dina al-Sherbiny, and Mohamed Salam, written by Maged, and directed by Hisham Fathy.
"Al-Garima" (The Crime), starring Ahmed Ezz, Menna Shalaby, and Maged al-Kedwany, and directed by Sherif Arafa, was excluded, as well as "Min Agl Zico" (For Zico's Sake), starring Karim Mahmoud Abdel Aziz, Menna Shalaby, and Mohamed Mahmoud, written by Mostafa Hamdy, and directed by Peter Mimi.