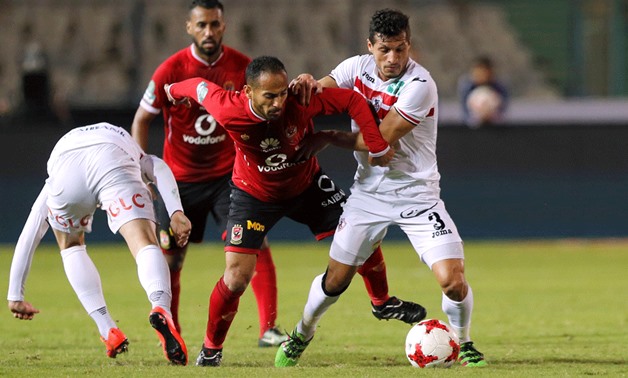 Egyptian, Arab and African football fans are eagerly awaiting the match Al-Ahly and Zamalek football teams, scheduled for Firday during the third round of the Premier League, at Cairo International Stadium at eight PM.
OnTime Sport channels will broadcast the match, as it is the exclusive owner of the rights to broadcast the Premier League.
Al-Ahly team ranks first in the Egyptian Premier League table with six points.
Zamalek and the Pyramids are equal to Ahly in points, but Ahly is ahead of the two teams by goal difference.
The Egyptian Football Association officials revealed that the international referee, Mohamed Adel, is the first nominee to manage the match.
The expected formation of Al-Ahly team includes Mohamed al-Shennawy, Badr Bannon, Ayman Ashraf, Ali Maaloul, Akram Tawfiq, Elio Diang, Amr al-Solaya, Mohamed Magdy Afsha, Hussein al-Shahat, Percy Tau and Mohamed Sharif.
The expected formation of Zamalek includes Mohamed Abu Gabal, Mohamed Abdel Shafy, Mahmoud Alaa, Hamdy al-Wensh, Hamza al-Mathlouthi, Tariq Hamed, Imam Ashour, Ahmed al-Sayed Zizou, Youssef Obama and Ashraf Bin Sharqy and Seif al-Gezeiry.