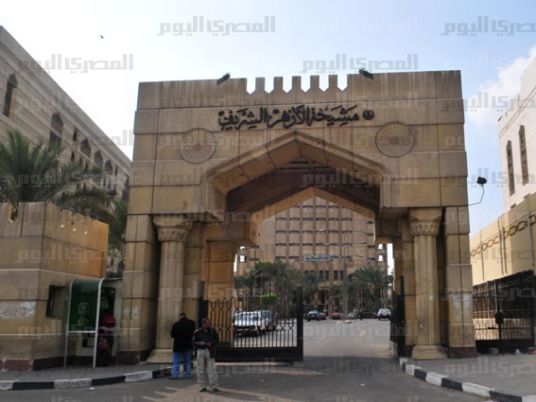 Abanoub Guirguis Naeem, a Christian dental student was recently granted admission to complete his final year of experiential training at Al-Azhar's Faculty of Dentistry in Assiut, an unprecedented rarity in the prestigious Islamic University.
Naeem is the first recognized case of a Christian student enrolling at Al-Azhar University, which is considered a beacon of centrist, moderate Islam in Egypt.  The 1,000-year-old seat of Sunni Islamic learning has been training clerics and scholars from around the world, and is known to only accept Muslim students into its colleges for educational purposes.
Naeem graduated from Nahda University in Beni Suef and as a medical school graduate he is obliged to complete a two-month or one-year residency before being allowed to practice in hospitals.
However, as numerous private universities do not provide their students seats for the residencies needed to complete their medical bachelor, students instead opt to seek residencies in government-run hospitals, like in Cairo University, Ain Shams University and Al-Azhar University — as in Naeem's case.
According to Khalid Seddiq, the dean of the faculty of dentistry at Al-Azhar University in Assiut, Naeem along with four of his Muslim colleagues sent their applications for a one-year residency to the faculty earlier in May.
"I signed and approved his papers, just like the rest of his colleagues. I did not care if he is a Christian or a Muslim. What is really important to me is to know if he is an Egyptian student of good academic standing or not. This is what really matters," Seddiq said, adding that if he hadn't it would have been a clear case of religious discrimination, which is against Al-Azhar's code of ethics.
The regulations for the faculty of dentistry of experiential training read: "Students of excellence training from all public and private universities in Egypt are to be granted, annually, admission into the faculty in early May, provided that the faculty's eligibility requirements are met. Our faculty is an equal opportunity venue and we welcome all dental training students of excellence to join the cohort of dental students we receive every year."
Naeem's admission came after MP Mohammad Abu Hamed called for Al-Azhar's scientific colleges to be brought under the jurisdiction of Egypt's Higher Council for Universities. Abu Hamed said that by doing so, it would allow all citizens, Muslims and Christians, to study secular subjects in Egyptian universities.
Speaking to Al-Azhar's spokesman Abbas Shouman, he said there is no rule that prevents any Egyptian from studying at Al-Azhar, yet the enrollment requirements are usually only met by Muslims, he noted; however, that there is a clear distinction between attending the university as a student and as a resident.
Students who study at Al-Azhar learn religious modules such as jurisprudence, Islamic law and Quranic studies throughout their lectures; the residency on the other hand is a form of experiential training, it's just practical work, Shouman explained.
Seddiq, the dean of Al-Azhar's Faculty of Dentistry in Assiut, added that Naeem applied to the college in May and was accepted, stressing that he was not the first Christian student to train in Al-Azhar, but he did not name others.
"Many Christians have taken part in training courses organized over the past few years," he said.
Shoman publicized his admission in TV comments to MBC Egypt's "Yahduth fi Misr" call-in show. He said: "Naeem was accepted for training at Al-Azhar thanks to the university's transparency and its openness to all."
Naeem's case sparked online discussions with many suggesting that Al-Azhar may be using his case to respond to repeated criticisms and improve the university's shaken image. Media figures like Islam El-Beheiry and Ibrahim Eissa have repeatedly accused the institution of teaching curricula that include fatwas deemed to be extreme, encouraging terrorism and condemning other religions.