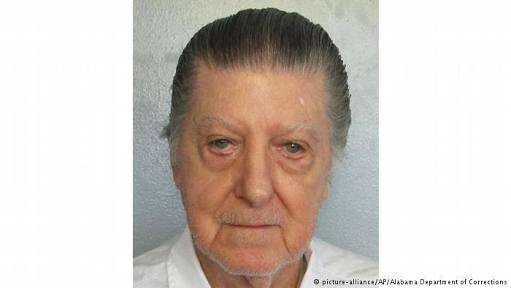 An 83-year-old inmate has been executed in Alabama. The convicted serial mail bomber was the oldest person executed since the reintroduction of the death penalty in the 1970s.
Walter Leroy Moody Jr., 83, was executed by lethal injection on Thursday in Alabama for a series of deadly mail bombings nearly three decades ago.
He was the oldest inmate executed since the US Supreme Court reinstated the death penalty in 1976.
Moody was convicted for the deadly 1989 mail bombings of US Circuit Court Judge Robert S. Vance and another that killed Georgia civil rights attorney Robert Robinson.
Two other mail bombs were intercepted and defused before they exploded, including one in Jacksonville, Florida, at the office of the National Association for the Advancement of Colored People (NAACP).
Authorities said Moody sent the bomb to the judge out of anger over a 1972 bomb conviction that ended his law career and the others to confuse police into thinking the bombs were sent by a white supremacist.
Moody was convicted by a federal court in 1991 to seven life terms plus 400 years. An Alabama state court in 1996 convicted him of murder and sentenced him to death.
The US Supreme Court allowed the execution to proceed despite last-minute appeals from Moody's lawyers arguing that he should first serve his federal sentence and that transfer to the state was illegal.
Alabama state attorneys had argued that the federal government had agreed to the transfer.
Moody is the eighth inmate executed in the United States this year and the 1,473rd since the reintroduction of the death penalty, according the Death Penalty Information Center.