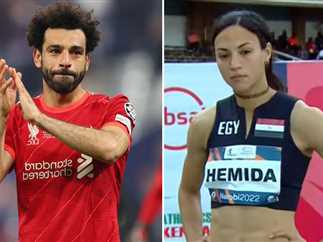 Egyptian international and Liverpool FC striker Mohamed Salah sent a message to Egyptian athletic champion Basant Hamida through her official account on Instagram.
Salah's message to Egypt's golden runner stated: "Congratulations to the champion Basant Hamida. We are always proud of you.. Keep breaking records."
Hamida published conversation, commenting: "One of the greatest achievements is to be encouraged and congratulated as the greatest and best player in the world.. Thank you, Mohamed Salah.. You are not just my role model, but you are a role model for the whole world."
She was crowned with two gold medals in the 19th Mediterranean Games in the 100 and 200 meter races, setting a new record for Egypt.
Minister of Youth and Sports, Ashraf Sobhi, received the national team player and javelin throwing champion Ihab Abdelrahman who won the silver medal at the Mediterranean Games.
The Minister of Sports praised Hamida's historic achievement, stressing that it is the first of its kind in the history of Egyptian athletics competitions.
Egypt entered many competitions it had no experience in before, he noted, and have excelled in them.