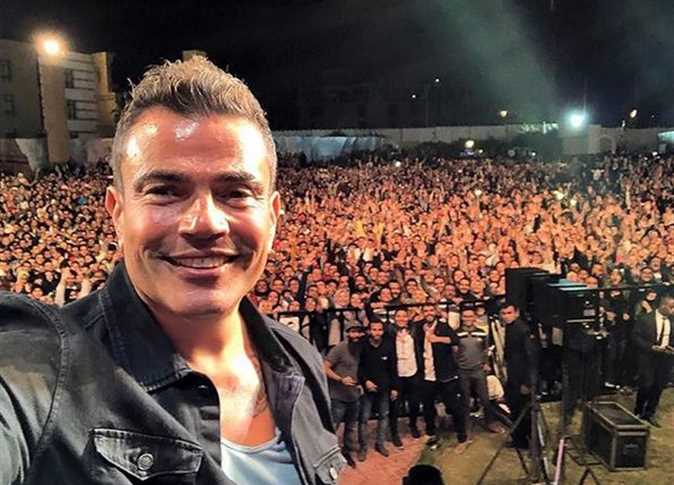 Following a viral video showing Egyptian singer Amr Diab slapping his guard on-stage during a concert, the guard in question, Hamada al-Sanusi, took to Instagram to clarify what really went down.
Uploading several photos showing him and Diab friendly together, Sanusi told press that any allegations that the singer was abusive were all false.
https://www.instagram.com/p/BnOKqbtACoj/?utm_source=ig_web_button_share_sheet
He explained that Diab slapping him during the concert was just playfulness, and that the singer respects both his audience as well as his crew. Sanusi assured press that in the 15 years which he worked as Diab's personal guard, he was never offended by the singer and was always treated respectfully.
During a concert last Thursday which took place in Golf Porto Marina, Diab got into a butted heads with his guards after they tried to stop an excited fan from reaching the stage and snap a photo.
The singer was shown moving the guards out of the way, slapping one in the process before taking the photo with his fan.
https://www.youtube.com/watch?v=5noP_pQQ5Eg
Diab is one of the biggest singers in Egypt and the Middle East.
Nicknamed "al-Hadaba" (The Plateau) to reflect sheer greatness, the superstar has had a long spanning career since he began creating music in 1983. Over the past three and half decades Diab has successfully remained as Egypt's and the Middle East's top singers, winning awards and selling records.
In 2009, Diab won four 2009 African Music Awards for Best Artist, Best Album, Best Vocalist and Best Song for "Wayah".
He is also the only Middle Eastern artist to have received seven World Music Awards.
Diab has been busy pumping his audience for his upcoming album "Kol Hayati" (All my Life), likely to release this month, by hosting high profile concerts such as the one he had in St. Petersburg, Russia during the World Cup in June.