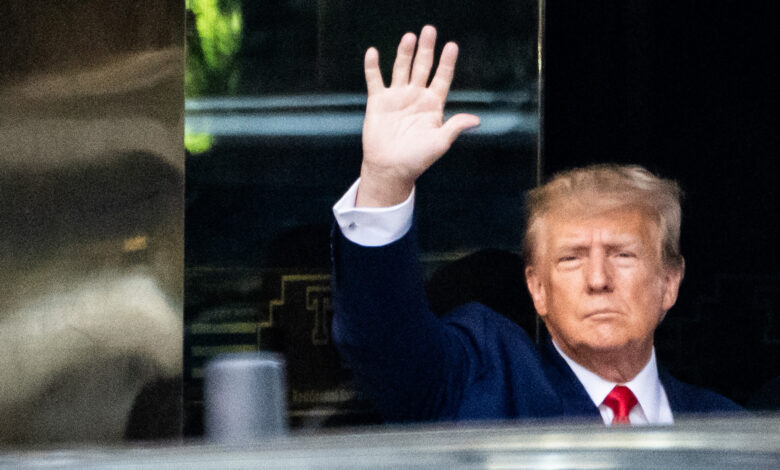 Former President Donald Trump is involved in four different criminal investigations by three different levels of government – the Manhattan district attorney, the Fulton County, Georgia, district attorney, and the Department of Justice.
Despite being indicted in the New York case, he can still absolutely run for president.
"Nothing stops Trump from running while indicted, or even convicted," the University of California, Los Angeles law professor Richard Hasen told CNN in an email.
The Constitution requires only three things of candidates. They must be:
A natural born citizen.
At least 35 years old.
A resident of the US for at least 14 years.
As a political matter, it's maybe more difficult for an indicted candidate, who could become a convicted criminal, to win votes. Trials don't let candidates put their best foot forward. But it is not forbidden for them to run or be elected.
There are a few asterisks both in the Constitution and the 14th and 22nd Amendments, none of which currently apply to Trump.
Term limits: The 22nd Amendment forbids anyone who has twice been president (meaning twice been elected or served half of someone else's term and then won his or her own) from running again. That doesn't apply to Trump since he lost the 2020 election.
Impeachment: If a person is impeached by the House and convicted by the Senate of high crimes and misdemeanors, he or she is removed from office and disqualified from serving again. Trump, although twice impeached by the House during his presidency, was also twice acquitted by the Senate.
Disqualification: The 14th Amendment includes a "disqualification clause," written specifically with an eye toward former Confederate soldiers.
It reads:
No person shall be a Senator or Representative in Congress, or elector of President and Vice-President, or hold any office, civil or military, under the United States, or under any state, who, having previously taken an oath, as a member of Congress, or as an officer of the United States, or as a member of any State legislature, or as an executive or judicial officer of any State, to support the Constitution of the United States, shall have engaged in insurrection or rebellion against the same, or given aid or comfort to the enemies thereof.
The indictment in New York City with regard to the hush-money payment to an adult-film star has nothing to do with rebellion or insurrection. Nor do potential federal charges with regard to classified documents.
Potential charges in Fulton County, Georgia, with regard to 2020 election meddling or at the federal level with regard to the January 6, 2021, insurrection could perhaps be construed by some as a form of insurrection. But that is an open question that would have to work its way through the courts. The 2024 election is fast approaching.
Notably, if he was convicted of a felony in New York, Trump would be barred from voting in his adoptive home state of Florida, at least until he had served out a potential sentence.