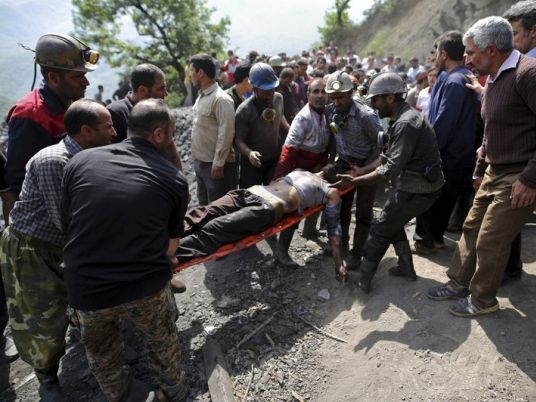 Angry coal miners attacked the armored SUV of Iranian President Hassan Rouhani on Sunday after he visited the site of a deadly mine explosion.
The miners, furious about the disaster which killed at least 35 miners Wednesday in the northern province of Goleston, kicked and beat the car with the president inside.
It was an extraordinary and rare display of public anger ahead of a presidential election scheduled for May 19. The poll is widely seen as a referendum on Rouhani's nuclear deal with world powers.
Ayatollah Ali Khamenei and his hardline supporters have strongly criticized the deal, saying it hasn't bought any tangible benefit to ordinary Iranians. Thousands of factories and industrial sites across Iran have struggled to keep up with payments in recent years due to the stagnant economy.
Rescue efforts at the site of Wednesday's deadly blast at the Azadshahr mine in nothern Iran
'Wait for a couple of minutes'
News of the attack on Rouhani's car did not initially come from the state media but from semi-official news agencies – Fars and Tasnim. Both are thought to have links to Iran's Revolutionary Guard – a hardline paramilitary force that Rouhani criticized during a recent presidential debate on TV.
Videos showed one miner atop the president's SUV, holding a banner in his hand, as another jumped up and down and kicked the hood.
Others beat the hood and body of the vehicle.
"Dear brothers!" someone shouts, "I beg you wait for a couple of minutes!"
Warned of anger
Gradually the SUV inched its way through the crowd, and emerged largely undamaged from the incident.
Hamid Aboutalebi, a political adviser to Rouhani, later tweeted that the provincial governor of Golestan had warned him not to let the president travel to the mine as emotions there were still raw.
"President Rouhani told me "I am the president in the time of their pain and fervor, if their shouts at me could lead to national peace, I have to go," Aboutalebi wrote.
The accident is believed to have been caused by a concentrated methane gas explosion that was triggered when workers tried to jump-start an engine.
Rouhani traveled to the Zemestanyourt mine to give a speech to the miners and their families.
"Be sure that we will pursue this issue and also your demands," Rouhani said. "Those who are guilty in this incident should be prosecuted by a court."
Education controversy
On another front, Khamenei attacked Rouhani for promoting a "Western-influenced" United Nations education plan, which he said was at odds with the country's strict Islamic principles.
"In this country, the basis is Islam and the Koran," Khamenei told a gathering of educators, according to his website. "This is not a place where the faulty, corrupt and destructive Western lifestyle will be allowed to spread its influence."