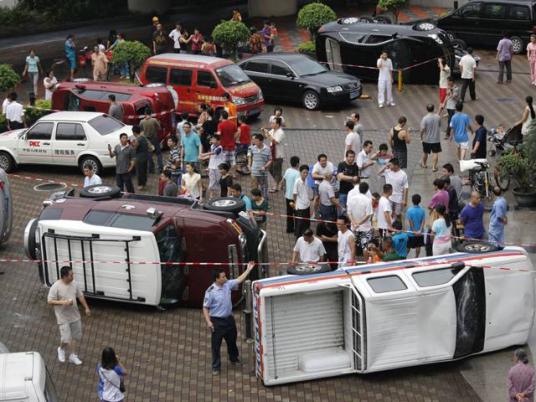 REUTERS — Anti-Japanese protests rocked Chinese cities on Sunday after nationalists from Japan landed on an East China Sea island at the heart of a territorial dispute between the two nations, the largest flare-up of Chinese public anger over Japan in years.
In several Chinese cities, thousands took to the streets, including in Shenzhen where small groups overturned Japanese cars and shouted slogans denouncing Japan's claim over the islands, in footage carried by Hong Kong's Cable Television.
Some used bare fists to smash in the windows of a white Honda Chinese police car as others rocked and pushed the car over to jubilant cheers. Others stomped on the overturned vehicles, screaming and waving the Chinese flag. Police arrested several protesters in Shenzhen after the demonstrations.
"The illegal behavior of Japanese right-wingers has violated China's territorial sovereignty," China's foreign ministry said in a statement, saying Beijing had lodged an official protest.
Tokyo and Beijing have been feuding for decades over the island chain, known as the Senkaku in Japan and the Diaoyu in China, near potentially huge maritime gas fields.
The country-wide demonstrations reflect lingering resentment among many Chinese over Japan's World War Two occupation, with some in the crowds urging Beijing's Communist Party leaders to stand up more to Tokyo.
"They should return the islands to us and apologize," said a young man in the Shenzhen protest, as others around him, both young and old, brandished Chinese flags and banners demanding that Japan leave the islands.
Japanese news agency Kyodo said protesters numbered in the thousands in the cities of Shenzhen and Hangzhou and reported that groups of protesters had burned Japanese flags and had broken into Japanese restaurants.
In Guangzhou, hundreds protested outside the Japanese consulate, which was ringed by Chinese police and steel barricades.
Tensions flared last week after seven of a group of 14 Chinese activists slipped past Japan's Coast Guard to land on one of the uninhabited isles and raised a Chinese flag.
Keen to avoid a rerun of a nasty feud that chilled economic and diplomatic ties in 2010, Japan deported the activists within days and Beijing'sresponse was relatively muted.
But the stand-off escalated again early on Sunday when 10 members of a group of more than 100 Japanese nationalists who had sailed to the island chain swam ashore to one of the islets and waved Japanese flags.
Three Japanese Coast Guard vessels were nearby, a Reuters TV journalist on board one of the boats said.
"I was hoping that someone with a real sense of Japanese spirit and courage would go and land and raise the flag, I just feel they've done a good job," said Kazuko Uematsu, a local lawmaker from Shizuoka Prefecture who was part of the flotilla.
'Don't mess around'
The activists later swam back to their boats and were being questionedby Japanese customs officials.
Japan's government had denied the group permission to land on the islands, which it leases from private Japanese citizens.
"This is a way of saying to not mess around," Toshio Tamogami, a leader of the Japanese group, said before the flotilla set sail on Saturday. "We hope to convey … both to China and the Japanese people that the Senkaku are our territory," Tamogami said.
The flotilla included several members of parliament and local lawmakers.
The last major spate of anti-Japanese protests in China took place in 2010, after Japan arrested the captain of a fishing boat after it collided with Japanese Coast Guard ships near the Diaoyu islands.
The latest dispute has parallels with Beijing's other recent tangles with Southeast Asian countries over rival territorial claims in the South China Sea.
China's expanding naval reach has stoked worries it could brandish its military might to get its way.
The Sino-Japanese row has intensified in recent months since the nationalist governor of Tokyo proposed that the Tokyo Metropolitan Government buy the isles, prompting the central government to make its own bid to purchase them instead.
Japan's ties with South Korea, where resentment over its 1910-1945 colonization remains, have also frayed since South Korean President Lee Myung-bak visited an uninhabited island claimed by both countries.
About 30 South Koreans held a ceremony on Sunday to unveil a monument on one of the barely inhabited islands, which are known as Dokdo in South Korea and as Takeshima in Japan.
The 1.2-metertall monument is engraved with the Korean word for "Dokdo" on the front and "Republic of Korea" in Lee's handwriting on the back.
His ratings in tatters ahead of an election that may come soon, Japanese Prime Minister Yoshihiko Noda faces domestic pressure to take a tough stance with Japan's neighborsover the island disputes.
This is despite deep economic links and efforts by Seoul and Tokyo, both close U.S. allies, to forge closer security ties.