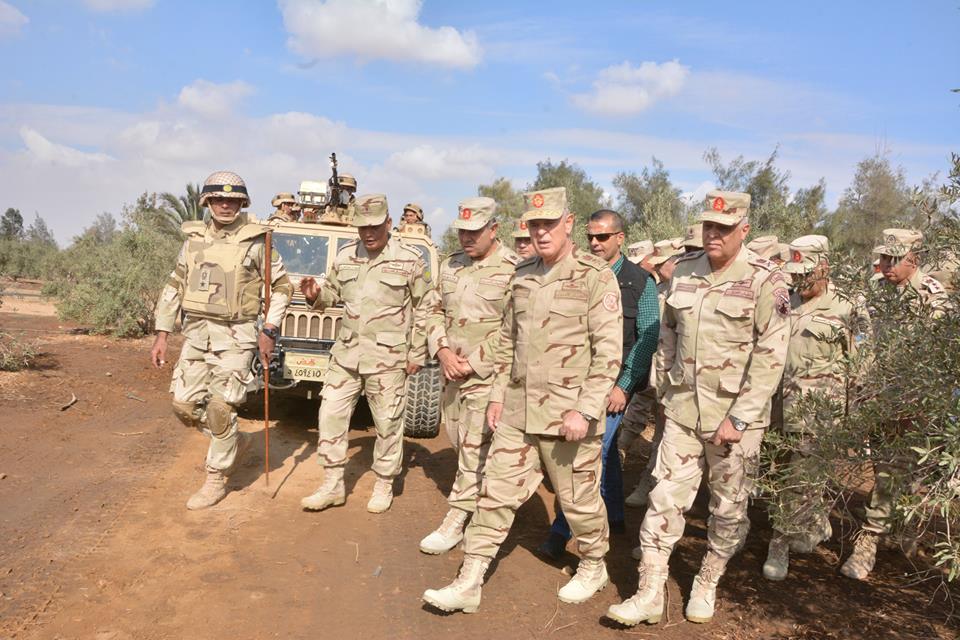 Chief of staff of Egypt's Armed Forces Mohamed Farid called on President Abdel Fattah al-Sisi to extend operation 'Sinai 2018' by more than three months.
He noted that there are many challenges faced by the Armed Forces in countering 'terrorists', explaining that his call to extend the operation is because he aims to ensure that terrorists are swept out of Sinai.
Farid's statements came during Sisi's visit on Sunday, in which he inaugurated the East of the Suez Canal Counter-Terrorism command, during which he wore a military uniform for the second time during his presidential term.
On the comprehensive military operation 'Sinai 2018', Farid said that the Egyptian Armed Forces planned it directly after receiving orders from Sisi, noting that Egypt's army is conducting ground operations against militants located in Sinai.
"Targeted militants possess many stores that contain lots of Improvised Explosive Devices (IEDs), the army operations are taking place inside residential areas," Farid explained.
Recently, following two weeks of Egypt's intensive military operations aiming to eliminate the presence of terrorism, official spokesperson of Armed Forces Tamer al-Refaei held a press conference to recount details on the operations.
During the conference, Refaei explained that since the start of the operation, the Armed Forces were able to destroy 158 targets through air strikes, while another 413 were destroyed by artillery.
He further noted that 71 militants were killed, and 1,852 people suspected or wanted over criminal charges or for supporting Islamic State (IS) elements have been arrested. A large number of them, however, have been released and handed their personal belongings after legal action found their innocence.
He also said that 1,282 storerooms used by terrorist elements used to hide and store administrative and medical needs, weapons, ammunition, mines, tents, and materials used in manufacturing improvised explosive devices were destroyed.
In response to the increasing terrorist threat in North Sinai, the 'Comprehensive Operation Sinai 2018' was launched on February 9 by different branches of the army, including the Second and Third Field Armies located in Sinai.
An army source who preferred to remain anonymous told Egypt Independent on February 11 that "the number of forces participating in the 'Sinai 2018′ reached 35,000 [army personnel] with the support of Egypt's Special Forces and police."
The source added that "the operation aims to eliminate the presence of the IS-affiliated Sinai Province. The widespread [distribution] of the Egyptian Armed Forces in the Sinai will leave no presence to a single militant."
Since 2014, North Sinai has witnessed a growing number of terrorist attacks carried out by IS the Sinai Province, including various attacks against the army and the police.
North Sinai-based state security has carried out large-scale security sweeps and military operations in response.