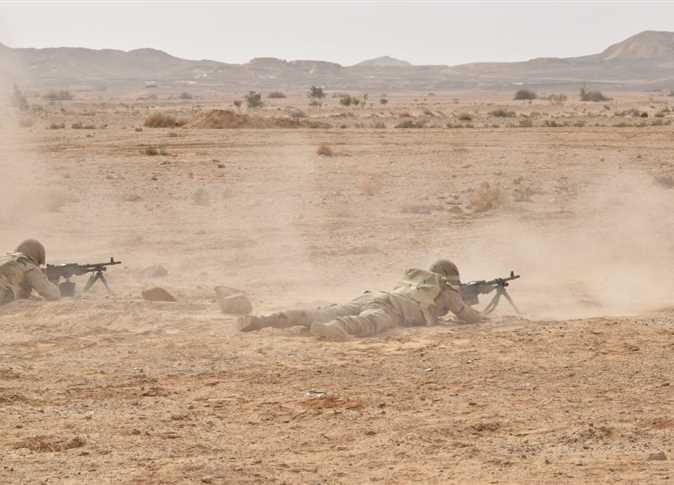 Egypt's Armed Forces released on Friday morning the eighth statement on the wide-scale security operation 'Comprehensive operation Sinai 2018' which began a week on Friday, the statement asserted that 68 stationing points for militants were destroyed.
According to the statement, the Egyptian Armed Forces used heavy artillery to target 68 stationing points used by militants for storing weapons and explosives. Three militants were also killed in central Sinai.
The statement also noted that an additional 244 suspects had been arrested, with the military seizing weapons and destroying 10 four-wheel drives alongside 22 motorbikes used by militants.
150 hideouts that contain a massive quantity of drugs were destroyed, as well as wireless communication equipment, and other living necessities, according to the statement from army spokesperson Tamer al-Refaei.
Specialized military engineers were able to detect and detonate 28 explosive devices that were planted on the main roads used by armed forces.
On Thursday, official spokesperson of the armed forces announced that over the first six days of the counter-terrorist operation, 53 terrorists had been killed, while 137 targets had been destroyed, and 680 "criminal elements" – who are suspected of aiding or working alongside terrorists – have been arrested.
The Armed Forces have destroyed 378 hideouts used by terrorists for storing medical and logistic substances, arms, and explosive materials. One of the hideouts contained a media center, he added.
Last Friday, the operation was launched by different branches of the army, including the Second and Third Field Armies located in Sinai, in response to the increasing terrorist threat in North Sinai.
An army source who preferred to remain anonymous told Egypt Independent on Sunday that "the number of forces that are participating in the 'Comprehensive Operation Sinai 2018′ reached 35,000 [army personnel] with the support of Egypt's Special Forces and police".
The source added that "he operation aims to eliminate the presence of the Islamic State-affiliated (IS) group Sinai Province. The widespread [distribution] of the Egyptian Armed Forces in the Sinai will leave no presence to a single militant."
Since 2014, North Sinai has witnessed a growing number of terrorist attacks carried out by IS and its affiliated group the Sinai Province, including various attacks against the army and the police.
North Sinai-based state security has carried out large-scale security sweeps and military operations in response.