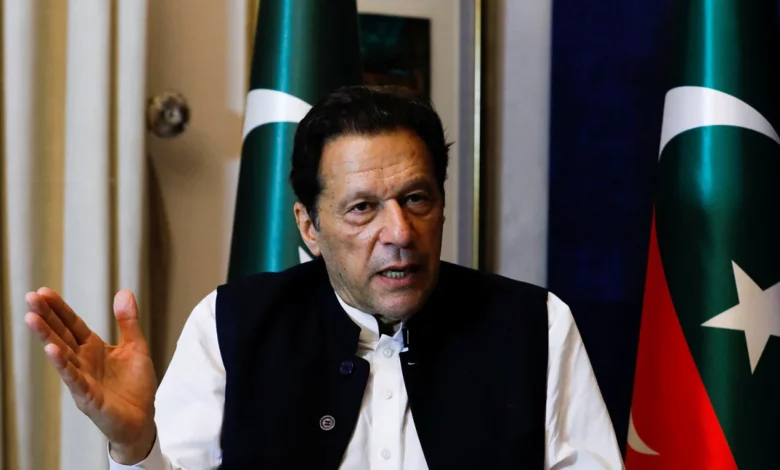 One of Khan's aides said he remained in the custody of the Supreme Court for his own safety and will make another appearance Friday.
Khan was arrested on corruption charges by paramilitary troops on Tuesday in a sudden operation that saw officers smash their way into a courthouse in the capital Islamabad to detain him.
He was then held in a guesthouse inside police headquarters where he appeared for a special hearing in front of a judge behind closed doors on Wednesday before being remanded in custody for eight days for a charge brought by Pakistan's anti-corruption agency.
Khan's lawyers had petitioned against judicial proceedings against their client taking place in police headquarters instead of a courthouse.
Police had justified the move, saying it was to keep Khan away from the public to maintain law and order.
Following his arrest, eight people died and hundreds have been arrested as protests pitting his supporters against army supporters turned violent.
The former PM is accused of illegally acquiring land to construct a university and has also been charged in a separate case for unlawfully selling gifts sent to him by foreign leaders while in office.
In a pre-recorded statement released on YouTube by Khan's Pakistan Tehreek-e-Insaf (PTI) political party after his arrest, the former prime minister said he was "detained on incorrect charges" and told his supporters "the time has come for all of you to come and struggle for your rights."
Tense showdown
The 70-year-old cricketer-turned-politician's arrest escalated what was already a tense showdown between the military and Khan's supporters that had been simmering for months.
The largest protests took place in the cities of Lahore and Peshawar, both political strongholds for Khan, and saw crowds clash with security forces.
Hundreds of protesters stormed the headquarters of the national broadcaster Radio Pakistan in Peshawar, setting the building on fire.
More than 300 people have been injured, according to officials. At least 650 people were also detained in the province of Khyber Pakhunkhwa, a government official who requested not to be named, told CNN on Thursday.
Police said nearly 1,000 Khan supporters had been arrested in the country's most populous Punjab province, according to Reuters.
Private schools were ordered shut nationwide, with certain countries, including the United States, issuing travel advisories. The government blocked mobile internet services in a bid to quell the chaos, disrupting access to Twitter, Facebook and YouTube. Popular apps and digital payment systems have also been disrupted.