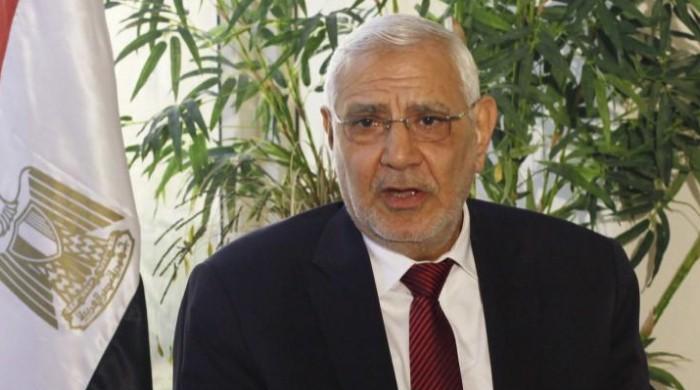 Egypt's Supreme State Security Prosecution ordered on Thursday the detention of Egyptian former-presidential candidate and current head of the Strong Egypt Party Abdel Moneim Aboul Fotouh for 15 days on charges of "leading a terrorist group," according to local media reports.
On Wednesday, police forces arrested Aboul Fotouh from his home in the New Cairo suburb after two complaints were filed against him by Public Prosecution lawyers accusing him of spreading false news and inciting against state institutions.
The interior ministry said in a statement that it had monitored communication between Abuoul Fotouh and the outlawed Muslim Brotherhood group in and outside the country.
The interior ministry said in a statement published on its official Facebook page that the communication sought "to implement a scheme aimed to stir up confusion and instability," in conjunction with armed groups carrying out acts of sabotage against vital state institutions, seeking to create a chaos that enables them to return to the top of the political scene.
Aboul Fotouh was arrested days after making a sharp criticism of President Abdel Fattah al-Sisi's government.
He said in an interview with Al-Jazeera that he rejects the presence of the Armed Forces' role in the country's politics or economic development.
Aboul Fotouh was detained along with members of his party who were visiting him upon his return from London, where he recorded the Al-Jazeera interview.
A prominent opposition figure, Aboul Fotouh led calls in January to boycott the upcoming presidential election, where Sisi is running against a sole competitor, Moussa Mostafa Moussa, who happens to be a staunch Sisi supporter
Aboul Fotouh was among other political figures who issued a statement condemning the election, saying it had lost its legitimacy following recent repressive practices imposed by the government, including the sidelining and arrest of opponents.
Egypt banned the Muslim Brotherhood in 2013 after President Mohamed Morsi; a senior MB member was ousted.
Last week, Mohamed al-Qassas, the deputy head of the Strong Egypt Party was arrested pending investigations, after he condemned the "systematic targeting of oppositions," in a statement made in a Facebook post, according to the party's Facebook page.