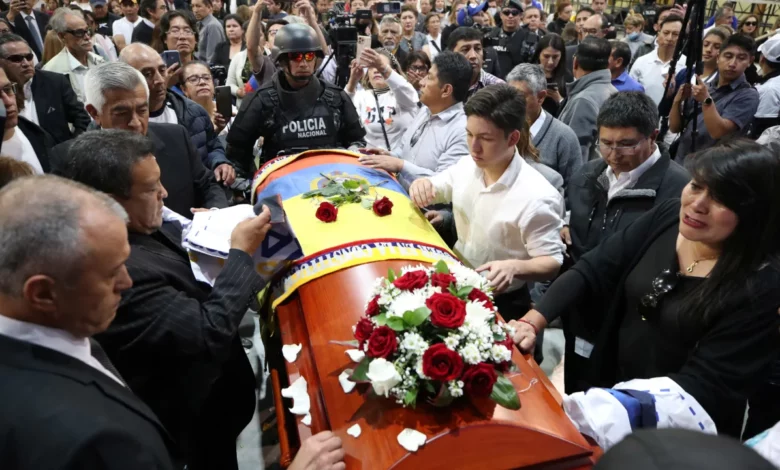 Quito, Ecuador
CNN
 —  The body of the assassinated Ecuadorian presidential candidate Fernando Villavicencio was buried in a private ceremony in the country's capital on Friday night.
The 59-year-old was laid to rest in the Monteolivo cemetery in northern Quito, his campaign team confirmed to CNN en Español.
They said the burial was carried out in deep privacy, with his coffin escorted by members of the police along with his closest relatives.
Villavicencio, an anti-corruption campaigner and lawmaker who was outspoken about the violence caused by drug trafficking in the country, was gunned down at a campaign rally in Quito on Wednesday.
The killing of Villavicencio, who belonged to the Movimiento Construye political party, came just 10 days before the first round of the presidential election was set to take place.
Authorities said Thursday that they had arrested six suspects, all Colombian nationals and gang members, in connection with his assassination. The suspected shooter died earlier in police custody following an exchange of fire with security personnel, though his nationality remains unclear.
The Andean country, a relatively peaceful nation until a few years ago, is now plagued by a deteriorating security crisis fueled by drug trafficking and a turf war between rival criminal organizations.
Violence has been most pronounced on Ecuador's Pacific coast as criminal groups battle to control and distribute narcotics, primarily cocaine.
The assassination prompted an outpouring of condemnation from inside Ecuador and around the world, including from the UN Human Rights chief, the United States and European Union.
During the investigation, authorities seized a rifle, a machine gun, four pistols, three grenades, two rifle magazines, four boxes of ammunition, two motorcycles, and a stolen vehicle believed to have been used by the suspects.
The attack also prompted President Guillermo Lasso to request help from the US Federal Bureau of Investigation, and he tweeted earlier that a delegation would soon be arriving in the country.