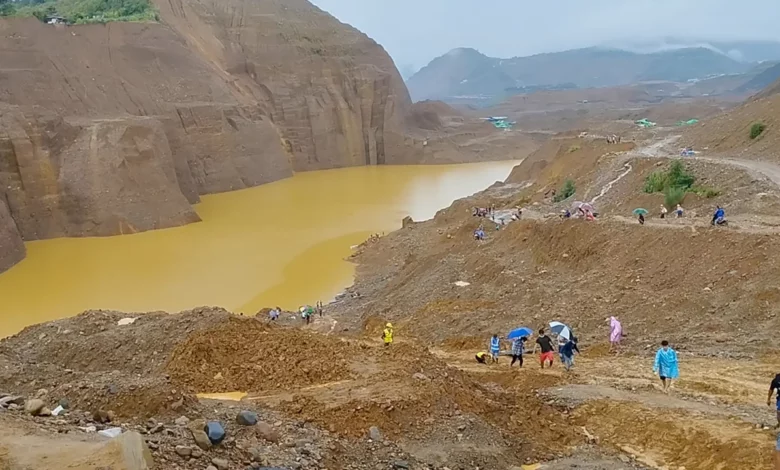 CNN
 —  A landslide at a jade mine in northern Myanmar has killed at least 32 people, a local fire services official told CNN on Wednesday.
The landslide took place in the remote and mountainous town of Hpakant in the northern state of Kachin on Sunday, said Sa Tay Za of the Hpakant Fire Service Department.
All of the bodies uncovered were men and all but one had been returned to their relatives, Za added.
The collapse of a sand cliff had sent water surging into a nearby lake and trapped the miners, the state-run newspaper Global New Light of Myanmar reported.
Myanmar produces about 70% of the world's jade and Hpakant is home to some of the world's biggest and most lucrative jade mines, worth billions of dollars.
The industry, fueled largely by demand from neighboring China, is rife with conflict, corruption, exploitation and environmentally destructive practices, according to the non-profit watchdog group Global Witness.
The group estimated Myanmar's jade industry was worth about $31 billion in 2014, nearly half of the country's official GDP that year.
However, the industry's exact value is unknown as it is largely unregulated. The Natural Resource Governance Institute, an advocacy group, has ranked Myanmar's gemstone sector as one of the most opaque in the world.
Miners are often impoverished migrants from other parts of the country and are at constant risk of death and injury from landslides.
More than 160 people died after heavy rain triggered a landslide in a jade mine in Hpakant in 2020. A similar deadly disaster happened in the same area in 2021.
CNN's Helen Regan contributed reporting.