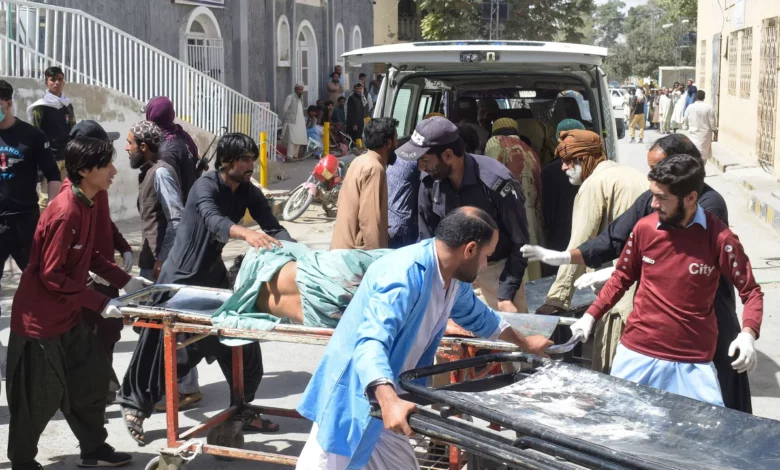 Quetta, Pakistan
CNN
 —  At least 52 people were killed and dozens more wounded in what authorities believe was a suicide attack at a religious procession in southwest Pakistan Friday.
The explosion occurred in the Mastung district of the restive Balochistan province, as people celebrated the birthday of the Prophet Mohammed, the information minister of the province Jan Achakzai told CNN.
Balochistan, Pakistan's largest province by area, has seen a decades-long insurgency by separatists who demand independence from the country, citing what they say is the state's monopoly and exploitation of the region's mineral resources.
Meanwhile, a separate blast took place during Friday prayers at a mosque near Peshawar City in the northwestern Khyber Pakhtunkhwa province, killing at least two people and injuring 11.
Local police told CNN two explosions had occurred at the mosque in Hangu, causing its roof to collapse and potentially trapping worshipers inside.
In Balochistan, Mastung's Assistant Commissioner Atta Ul Munim confirmed to CNN that the explosion was a suicide attack. Later, district health officer Dr. Abdul Rasheed said 50 people had been injured in the blast.
No group has yet claimed responsibility for the explosion in Mastung.
Ul Munim claimed a senior police officer, who was killed in the explosion, was the target of the attack.
The critically injured have been transferred to hospitals in Quetta, the province's capital, while others are being treated in a local hospital in Mastung, he said.
Achakzai said the bodies of the victims have also been moved to a hospital but that he expected the number of casualties to rise.
Pakistan's caretaker prime minister Anwar-ul-Haq Kakar strongly condemned the blast in a statement.
"The Prime Minister expressed his condolences to the families of those who died in the blast," a statement from his office said. "Prime Minister's prayers for forgiveness for the deceased and patience for the families."
Police in Karachi, Pakistan's largest city some 600 kilometers (370 miles) from Mastung, have been instructed to tighten security and remain on "high alert" in wake of the blast, a statement from the inspector general said.
Balochistan has witnessed a spate of attacks in recent months.
Last month, an attack on Chinese engineers in Balochistan was thwarted by Pakistan's military, leaving two militants dead and the Chinese workers unharmed, according to police.
In March this year, at least nine police officers were killed and 11 others injured in a suspected suicide blast.
Just hours after the blast in Balochistan, attackers targeted a mosque in the northwest of the country. Local police said two men on bikes had started shooting at their officers outside the Hangu mosque in Khyber Pakhtunkhwa province.
One of the attackers then detonated an explosive close to the mosque's entrance, while the other detonated one inside the building, local police officer Saaleh Muhammad told CNN.
Muhammad told CNN that while most worshipers fled during the shootings, some had remained inside as the mosque's roof collapsed.