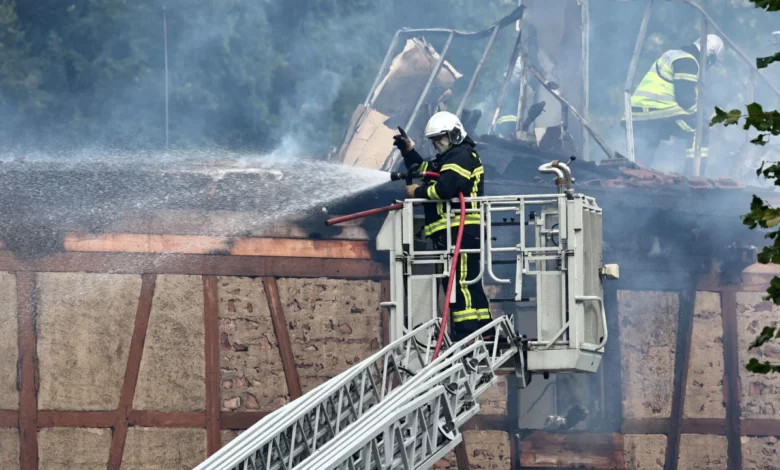 Paris
CNN
 —  At least nine people were killed and two are missing after a fire broke out at a vacation home in eastern France early Wednesday morning, authorities said.
Firefighters were alerted to the blaze in Wintzenheim, a small town near the German border about 315 miles (500 kilometers) east of Paris, at 6:33 a.m., according to Philippe Hauwiller, the town's head of rescue operations.
First responders arrived to the scene 14 minutes later, where 17 people had already evacuated from the home.
Eleven people were still inside. Given the intensity of the flames on their arrival, Hauwiller said it was "more than likely" that those who hadn't made it out were already dead by the time firefighters were on the scene.
Authorities deployed 76 firefighters, four fire trucks and four ambulances, and the blaze was brought under control by 9 a.m., the prefecture said in a statement.
Christophe Marot, a senior official in Haut Rhin, told CNN affiliate BFMTV that those inside the building could not escape from the blaze.
"We know that people were trapped," Marot said in an interview with CNN affiliate BFMTV. "It's very tragic."
The 500 square-meter (5,400 square-foot) house had been hosting people with disabilities during the summer holidays. The group had been visiting from Nancy, a city about 140 kilometers (87 miles) northwest of Wintzenheim, the prefecture of Haut Rhin said in a statement.
Leroy said all the visitors were adults, believed to be between 27 and 50 years old. The building where they were staying "completely destroyed," by the fire, and only the ground floor remained, he said.
Authorities do not have any leads on what caused the blaze, but an investigation has been opened, Hauwiller said.
Interior Minister Gerald Darmanin said several casualties had been reported "despite the rapid and courageous intervention of the fire department, to whom I pay tribute."
President Emmanuel Macron offered condolences to those affected and thanked first responders in a statement.
"Faced with this tragedy, my thoughts go out to the victims, to the injured, to their loved ones. Thank you to our security forces and our mobilized emergency services.
Prime Minister Elisabeth Borne said she would be traveling to the city with Minister of Solidarity and Families Aurore Bergé.
"My first thoughts are with the victims and their loved ones," she said. "I commend the firefighters' response."
CNN's Maya Szaniecki contributed to this report