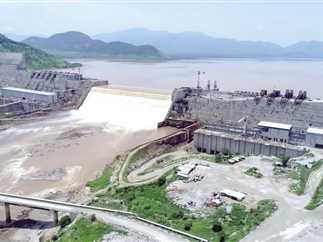 "We want to live and we want them to live," Egyptian President Abdel Fattah al-Sisi said on the GERD dispute with Ethiopia, touching on the importance of water for Egypt and describing it as a matter of "life or death" during a joint press conference in the capital Budapest with and his Hungarian counterpart, Janos Ader.

"With regard to the Grand Ethiopian Renaissance Dam issue, Egypt supports development and construction in Ethiopia," Sisi said, adding: "Our position on the Renaissance Dam has always been positive, and we have said and repeat that we are ready to cooperate and partner with the Ethiopians. We want to live and we want them to also live."
"We do not want water to remain a cause for conflict, problems or clash, but rather for development and cooperation among us," Sisi said.
"We demand that we reach a binding agreement on the filling and operation of the dam," Sisi said.
"We only want to get our share of water without any impact."
"We do not have a water resource except the Nile River. We are one of the countries that have severe water scarcity, and the civilization of Egypt over the years has been established only on the Nile River, and the rest of Egypt's lands are 95 percent dry desert," he concluded.

Sisi also thanked Hungarian President Ader for his help in the issue.
Egyptian Minister of Irrigation and Water Resources, Mohamed Abdel-Aty on Monday called for a specific time table with the presence of international observers regarding negotiations on the rules for filling and operating the GERD.
The UN Security Council issued a statement in mid-September on the GERD dispute encouraging Egypt, Ethiopia and Sudan to resume negotiations, under the President of the African Union to finalize a binding legal agreement on filling and operating the dam.
Egypt and Sudan say they want a legally binding agreement, while Ethiopia says any pact should be advisory.
Egypt and Sudan consider the dam a threat to their vital water supplies, while Ethiopia considers it essential for development and doubling its electricity production.
The downstream nations fear possible blows to water facilities, agricultural land, and overall availability of Nile water.