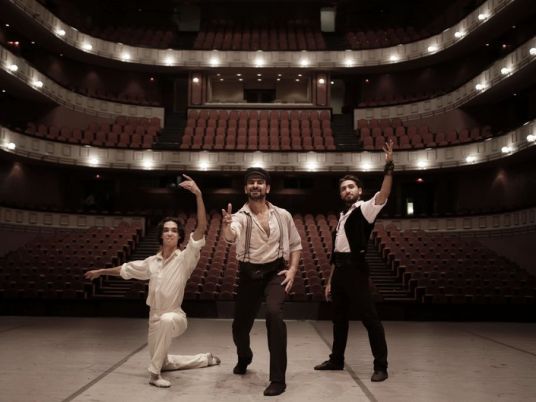 Ballet dancer Fady el-Nabarawy feels he can finally breathe again the moment he enters the gates of the Cairo Opera House after a commute from his ramshackle, poor neighborhood. This is where he and his fellow dancers practice, perform, love and create.
"Every day, I cannot wait to come here. My oxygen is here," he said.
Ballet is in its own bubble in Egypt, removed from the surrounding society. The elite Western art form is far from Egypt's own rich traditions of classical Arabic music and dance, let alone the electro-beat sweeping the Arabic pop music scene. The country has grown more conservative, and in the eyes of some Muslims, ballet is outright "nudity." Social pressure to conform is overpowering, so the idea of someone dancing on stage in tights strikes many Egyptians as just plain odd.
Still, the young men who found their passion dancing ballet are hardly isolated elites. They're firmly rooted in the middle and lower-middle classes, managing to carve out their own Bohemian zone of diversity and creativity.
Ballet's audience in Egypt may be limited, but it's enthusiastic. On a recent night at the Opera House, located on an upscale residential island in the Nile River, the Cairo Ballet Company brought a packed house to its feet with a rousing performance of "Zorba," a ballet based on the same novel as the movie "Zorba the Greek."
The audience — men mainly in suits, women in evening gowns, many wearing Muslim headscarves — cheered a dazzling finale by the two leads. Ahmed Nabil, tall and slender, leaped in classical routines while Hani Hassan, playing Zorba, mixed in the machismo of traditional Greek dance, slapping his thighs and kicking up his heels. Hassan blew kisses to the crowd and led them in clapping to the music.
The ovations pulled them out for three encores. Afterward, people swarmed to congratulate Nabil and his wife and fellow dancer, Italian ballerina Alice De Nardi.
"And to think my parents wanted me to drop out of ballet school," Nabil said.
In the 60-member, state-funded company, almost all the ballerinas are foreigners, coming from Serbia, Italy, Greece, Japan, Ukraine and Greece, with only a handful of Egyptians. The male dancers, in contrast, are almost all Egyptian.
From childhood, the male dancers learned to keep ballet a secret. It was the best way to avoid mockery, bigotry, innuendos about their sexual orientation or just ignorant curiosity — constant questions like "Can you walk on your toes?" or "Do you wear tights?" Hassan told people he did gymnastics when they asked why he was getting so muscular.
"When I read music on the metro and some guy asks me what I'm doing, I tell him I'm with the conservatory," said el-Nabarawy.
El-Nabarawy came to ballet because of a moment of despair as a 7-year-old. He was a reclusive child, and his teachers often yelled at him and hit him. So one day he skipped school and hid all morning behind a parked car near his home.
When his mother found out, she promised to move him to another school the next year. His father saw an ad for the arts academy. Its main attraction was that it was near their home. El-Nabarawy applied to the conservatory and failed, but then was accepted in ballet.
His mother wondered if that was more suitable for girls, but in the end didn't object.
"I became a ballet dancer by chance but, glory to God, I'm told I was born to be a ballet dancer," he said.
El-Nabarawy, now 29, said he's proud both of being a ballet dancer and of being from Cairo's district of Omraniyah, though it is not always easy.
Once farmland on Cairo's western edges, Omraniyah is now a crowded district of shoddy, cramped concrete-and-brick apartment towers, mostly built up illegally as migrants poured in from southern Egypt looking for jobs and a better life. Narrow streets are jammed with cars, trucks, donkey carts and motorcycle rickshaws, or tuk-tuks, often driven by children.
El-Nabarawy lives with his parents and brother on the top floor of a six-story walk-up. It looks out over a cityscape of satellite dishes, dangling wires, exposed rebar and jagged concrete.
But he's hardly there. "My life now is totally divorced from Omraniyah," he said. "I just go home to sleep."
Instead, his time is spent in the refuge of the Opera House complex.
In rehearsals, as the dancers sweat and strain, it becomes clear how it's a space for some diversity. Some of the men sport a "zebiba," a bruise on the forehead from prostrating during Muslim prayers, and head out to pray during rehearsal breaks. Others have pony tails, a style that still gets disapproving looks on the streets in Egypt.
The male and female dancers mingle, chat and smoke together. Like his Zorba, the 39-year-old Hassan, the son of an army officer, exudes joie-de-vivre, flirting with ballerinas and showing off his fluency in Russian — his ex-wife was a Russian dancer. He proclaims repeatedly he's traveling soon to Spain for a guest performance, a badge of honor.
At least six of the male dancers are married to or dating foreign female dancers.
It's often a lesson in broadening horizons. El-Nabarawy describes himself as a practicing Muslim — he sometimes posts religious material on Facebook — and his girlfriend, Kristina Lazovic, is a Christian Serb. El-Nabarawy grew up hearing about Serbian massacres of Bosnian Muslims during the Balkan wars in the 1990s. Now he's getting the Serbs' side in lively discussions with Lazovic.
"I'm now convinced atrocities were committed by both sides," he said.
Fellow dancer Waleed Eskaros and his fiancée, Greek ballerina Antigoni Tsiouli, are making their own cultural adjustments. Both are Christian, but he's Coptic Orthodox and she's Greek Orthodox.
He wants his Church's blessing, but it won't marry them unless she converts, something she and her family refuse. So "it looks like I will marry in a Greek Orthodox church. They are more flexible."
Presiding over the rehearsals is Madame Erminia Gambarelli, the artistic director. She's the Italian widow of Abdel-Moneim Kamel, the giant of Egyptian ballet who rebuilt the company in the 1990s, mentored many of its current dancers and died in 2013.
Ballet in Egypt has been immersed in politics from the start.
The national company was founded by the government in 1958 as a way to strengthen the bond with Egypt's top ally at the time, the Soviet Union. In the 1990s, President Hosni Mubarak's government revived ballet as part of a more capitalist-driven prestige project, building the Opera House complex with Japanese backing.
Ballet was thrust onto the political stage after the Muslim Brotherhood came to power following the 2011 uprising that ousted Mubarak.
Islamist lawmakers demanded an end to state funding for the company. One legislator denounced ballet as the "art of nakedness."
Some dancers had often worried privately over whether ballet was acceptable under their faith, Eskaros said. The Islamists tipped them over the edge, and several quit, declaring it "haram," or forbidden.
Fears over the fate of ballet and other arts became a rallying point in the popular campaign against the Brotherhood. When an Islamist was named culture minister in 2013, artists and intellectuals held a month-long protest outside the minister's office.
It turned into a nightly street party of singing, poetry and dancing. Hassan, Eskaros and others in the company performed a dozen times. "I thought I'd dance on the street to let people decide for themselves whether ballet is haram or not," Hassan said.
The military ousted the Brotherhood in July 2013.
Hassan remains a fierce opponent of "conservative ideologies" he says pervade the country. "People inject religion into everything … always talking about what this sheikh said and what that sheikh said."
The company is still recovering from the turmoil. Most foreign dancers fled amid the 2011 uprising. Foreign ballerinas are back, but now the company — like the rest of Egypt — struggles with austerity measures imposed by the government to repair the damaged economy.
Funds are tighter. After devaluations, even the best paid dancers make the equivalent of only a few hundred dollars a month. Nabil and Hassan run ballet schools, making a living and spreading the art. Others teach ballet or take up day jobs, mostly in the government.
"I'm not happy with the quality of our work," said the 34-year-old Nabil. "The company is now rebuilding."
Still, he said, his entire life is within the Opera House walls, where he's been coming since he was 11.
"This is where I am famous. Once I go through the gate and onto the street, I cease to exist as who I am."