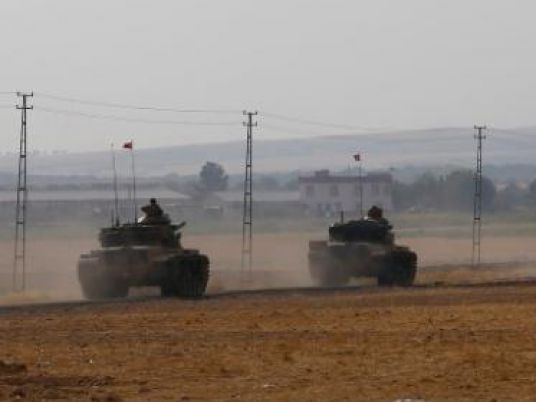 The Syrian Observatory for Human Rights, a war monitor, reported fierce clashes at the southwestern edges of Al-Bab, with some rebel advances there.
It said that Turkish air strikes in the area had killed seven people in Al-Bab and that 15 Turkish-backed rebels had been killed in fighting on Wednesday.
The Euphrates Shield operation is largely focused on combatting "Islamic State" (IS) group, but Ankara is also determined to prevent the Kurdish YPG militia, which it sees as a hostile force, from linking cantons it controls along the border.
Clashes between Turkish-backed Syrian rebels and IS militants intensified on Wednesday, killing four Turkish soldiers and more than 40 jihadists, the army said.
Turkey's military said the rebel forces, which have been besieging Al-Bab for weeks, had largely established control over the strategic area around the town's hospital.
"Once this area has been seized, Daesh's dominance of Al-Bab will be to a large extent broken," it said in a statement, using an Arabic acronym for the terrorist group. IS was using suicide bombers and vehicle-borne explosives intensively, it added.
Turkey's military was pressing on with the operation after its foreign minister and his Russian and Iranian counterparts said in Moscow on Tuesday that they were ready to help broker a deal to end Syria's almost six-year-old war.
The talks came as Syrian government forces neared their biggest victory in the conflict, closing in on the last rebel enclave in the long-embattled city of Aleppo.
Around 20 Turkish soldiers have been killed in the course of the "Euphrates Shield" operation, launched nearly four months ago, to push IS and a Kurdish militia away from Syria's border with Turkey.
In the latest clashes, four Turkish soldiers were killed and 15 soldiers wounded, some of them seriously, the military said.
"Currently clashes are continuing intensively in the area," the military statement said, describing the hospital area, on the slope of a hill overlooking al-Bab, as having long been used by IS as a weapons and ammunition store.
Turkish air strikes on Wednesday morning destroyed 24 IS targets and killed more than 40 militants, according to estimates by the army. It added that some 15 others had been killed in the previous 24 hours.
Additional reporting by Ellen Francis in Beirut; Writing by Daren Butler; Editing by David Dolan and Mark Heinrich; Reuters