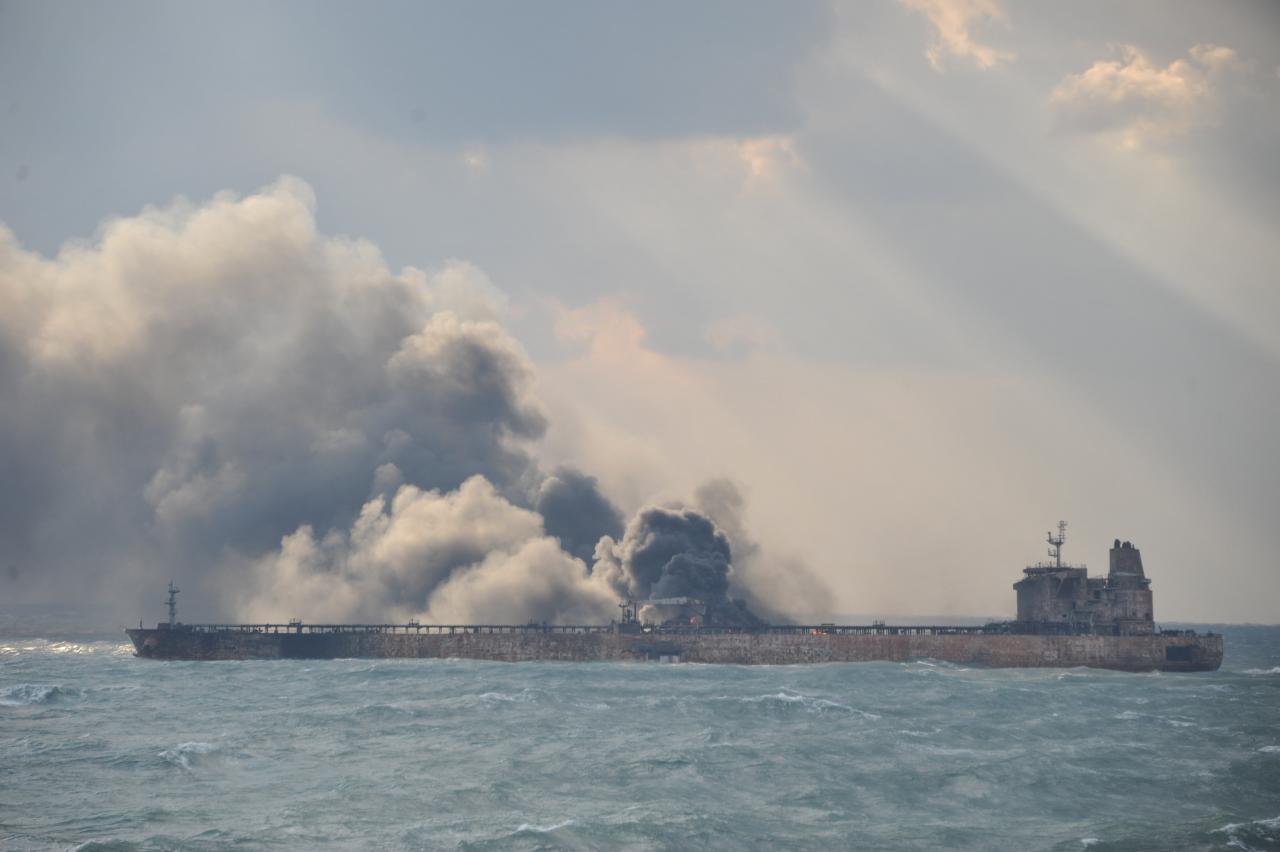 The bodies of two crew members were recovered on Saturday from the burning oil tanker, which has been on fire for a week, after it crashed into a freighter in the East China Sea, Chinese state broadcaster CCTV reported.
Rescuers found the bodies on the lifeboat deck of the Panama-registered boat, named the Sanchi, on Saturday morning, state CCTV added.
Another body suspected to be from the ship was recovered from the sea earlier this week, leaving 29 crew members still unaccounted for. The crew was all Iranian expect for two Bangladeshis.
The vessel, which was travelling from Iran to South Korea, crashed about 250 kilometers (160 nautical miles) off the coast near Shanghai and the mouth of the Yangtze River Delta on January 6.
Ship's data retrieved
The rescue team was only able to stay on board the burning 274-meter-long (898 feet) vessel for 30 minutes due to "thick toxic smoke," state news agency Xinhua reported, but managed to retrieve the ship's data and video recordings.
They were unable to continue the search for missing people in the crew's living quarters due to temperatures of up to 89 degrees Celsius (192 degrees Fahrenheit).
Thirteen ships, including one from South Korea and two from Japan, were involved in rescue and clean-up operations on Saturday, spraying foam on the ship to extinguish the fire.
The tanker was carrying cargo of nearly 1 million barrels of condensate, a type of gassy, ultra-light oil that readily evaporates or burns off in a fire, reducing the chance of a major oil spill.
In comparison, the Exxon Valdez had 1.26 million barrels of crude oil on board when it spilled 260,000 barrels into Prince William Sound off Alaska in 1989, in the second largest oil spill in American history.
The Hong Kong-registered cargo ship that the Sanchi collided with, which was carrying grain, suffered some damage but "without jeopardizing the safety of the ship," the ministry said. The 21 Chinese crew aboard the vessel were rescued.
Authorities had expressed concern over the tanker exploding, but did not mention the possibility on Saturday.
The cause of the collision is still unclear.