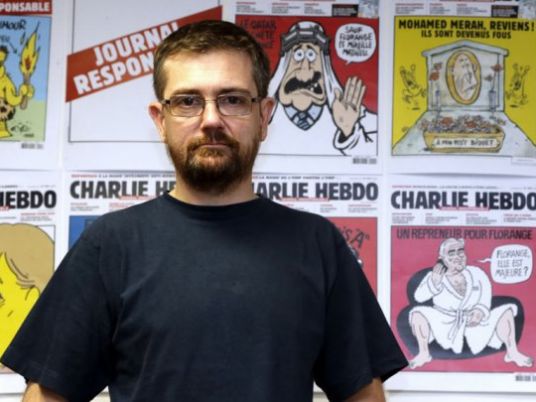 A book on Islamophobia written by late Charlie Hebdo editor Charb, completed two days before he was killed in an attack on the weekly's Paris offices on January 7, is to be published on Thursday.
In a short book which at times feels chillingly prescient, Charb – whose real name is Stéphane Charbonnier – expressed concern that the fight against racism is being replaced by a struggle against "Islamophobia", which he argued defends Islam more than it does Muslims.
He also defended the satirical weekly Charlie Hebdo, which stirred outrage in much of the Muslim world after publishing caricatures of the Prophet Mohammed on numerous different occasions.
"One day, for a laugh, I will have to publish all the threats I received at Charlie Hebdo," Charb wrote.
In the book, which is titled "Letter to the Islamophobia swindlers who play into the hands of racists", Charb asked why Islamophobia, which technically means "fear of Islam", is being used to denounce hatred of Muslims and wondered why "Muslimophobia" is not used instead, or simply "racism".
He argued that "a lot of those who campaign against Islamophobia don't actually do it to defend Muslims as individuals, but to defend Prophet Mohammed's religion".
He blamed the media for helping popularise the term, because "any scandal that contains the word 'Islam' in its title sells".
"A terrorist is scary, but if you add that he's an Islamist, everyone wets themselves," he wrote.
'The problem isn't the Koran, nor the Bible'
Charb also questioned organised religion, and particularly some of its followers.
"To be afraid of Islam is without a doubt moronic, absurd and many other things as well, but it's not an offense," he wrote. "The problem isn't the Koran, nor the Bible, [two] badly written, incoherent and soporific novels, but the believer who reads the Koran or the Bible like one reads an instruction manual on how to assemble an Ikea shelf."
He defended Charlie Hebdo's controversial depictions of the prophet over the years, which have been criticised as Islamophobic.
"By what twisted logic is humour less compatible with Islam than with any other religion? … If we let it be understood that we can laugh at everything except certain aspects of Islam because Muslims are much more susceptible than the rest of the population, isn't that discrimination?
"It's time to end this disgusting paternalism of the white, bourgeois, intellectual 'left' who seek to exist among the 'unfortunate, under-educated poor'," he wrote.
He also chillingly wrote about a list published by the al Qaeda in the Arabian Peninsula's (AQAP) "Inspire" magazine in 2013, which identified 11 people wanted "dead or alive" for committing "crimes against Islam".
"I find my name, badly spelled but accompanied by a photo where you can recognise my alarmed face" — a picture he said was taken when the newspaper's offices were burnt down in 2011 shortly after a special edition was published under the banner "Charia Hebdo".
"The skillful montage is titled 'YES WE CAN' and below you can read: 'a bullet a day keeps the infidel away'."