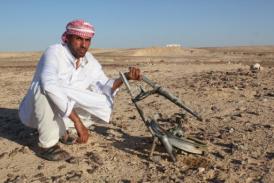 Two British nationals were released just a few hours after being kidnapped on Thursday by Bedouin in Sinai.
The release followed negotiations with security officials, Police Chief Magdi Mussa told AFP.
"They have been released and are heading back to their place of accommodation," Mussa said, adding that the release follows "intense negotiations" between the kidnappers and security officials, he said.
The Britons were heading in a private car from Cairo to Sharm El-Sheikh, a popular tourist resort, and had stopped to change money in Ras Sidr when they were kidnapped by the tribesmen, the sources said.
The kidnappers told reporters they were demanding the release of four people held in Alexandria for arms trafficking.
State television identified the pair as the head of a petrol company in Egypt and his wife.
The British Foreign Office said it was investigating.
"We're aware of reports about it and are looking into those at the moment to clarify the situation. We would urge restraint … due to the sensitivity of the incident," a foreign office spokesman told AFP.
Since an uprising overthrew president Hosni Mubarak last year, the Sinai has grown ever more lawless.
The Bedouin have pressed hard for the release of captive tribesmen they say have been sentenced unfairly on charges ranging from terrorism to drug dealing and people trafficking across the border into Israel.
Tourists kidnapped in similar circumstances last year were released unharmed.
Two American women were kidnapped in Sinai in February last year but Egyptian authorities negotiated their release a few hours later.
Two other US tourists were kidnapped in late May that year, and then two more US tourists in July. The captives were released within days in both incidents.