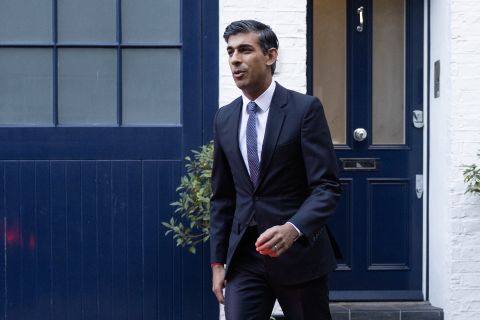 Former finance minister Rishi Sunak will be the United Kingdom's next prime minister after seeing off his lone remaining rival in the race.
Rishi Sunak has received the backing of more than half of Conservative lawmakers in the race to become the next party leader and prime minister, PA Media reported Monday.
The former Chancellor has received a flurry of public endorsements from high-profile Conservative Party lawmakers in the race to become Britain's next prime minister.
His sole rival, Penny Mordaunt, must also secure the backing of at least 100 Conservative MPs by 2 p.m. (9 a.m. ET) to be placed on the ballot.
If both candidates cross the threshold, there will be an indicative vote by MPs and then, later this week, Tory members will have their say.
Mourdant has failed to seize much momentum in the contest and could be pressured to pull out, either before the MPs vote or after, if she is unable to find some today.