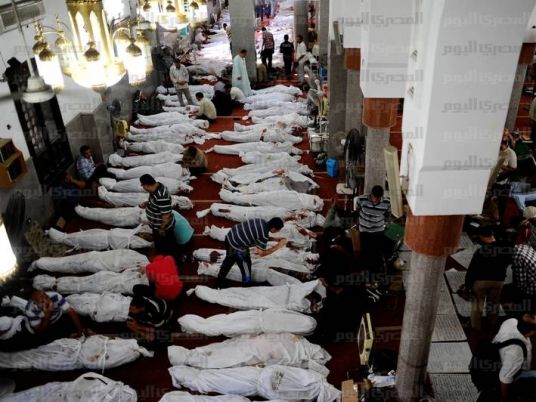 The Muslim Brotherhood has reduced its number of marches to be staged on Sunday, suggesting the change in tactics may be an attempt to reduce human losses after hundreds died in confrontations with security forces two days ago.
Marchers planned to arrive at the Supreme Constitutional Court (SCC), rather than Ramses Square in central Cairo, where bloody clashes erupted with the police on Saturday.
The National Alliance in Support of Legitimacy, set up by the Brotherhood to examine ways to reinstate ousted President Mohamed Morsy, said its activities will continue this week across Egypt as part of what they called the week of the "rejection of the coup."
The Brotherhood is reportedly avoiding places where clashes have previously broken out, to reduce losses after 213 people were killed on Friday, according to the alliance. On Saturday, the Brotherhood avoided areas and restricted protest activities to Helwan, south of Cairo.
Sunday's marches will set off from Khatam al-Morsaleem and Estiqama mosques in Giza, Assad Ibn al-Fourat mosque in Dokki, al-Maraghi mosque in Helwan, al-Rayyan mosque in Maadi and Khaled Ibn al-Waleed mosque in Imbaba following afternoon prayers.
Elsewhere in Cairo, marches will set off from Abou Bakr al-Seddiq, al-Khulafaa al-Rasheden mosques in Heliopolis and Al-Aziz Bellah mosque in Zeitoun. All these protests will eventually pour into the area around the Supreme Constitutional Court where the Brotherhood hopes to stage a renewed sit-in.
The Brotherhood staged a sit-in that besieged the SCC for weeks last year during the rule of Morsy to prevent the issuing of a ruling to dissolve the Shura Council and the constitutional writing committee, a protest that brought both the presidency and the Brotherhood under fire.
Meanwhile, Jama' a al-Islamiya condemned the arrest of Mostafa Hamza, the head of the group's Shura Council outside Egypt who was also formerly in charge of the group's militant wing. It also denied that he had any links with Luxor massacre in which dozens of tourists were killed in 1997.
The group considered the arrest of Hamza a sign of the renewed empowerment of State Security and an upshot of the enforcement of the Emergency Law.
Hamza was among the alleged planners of a failed assassination attempt on former President Hosni Mubarak in Addis Ababa in 1995.