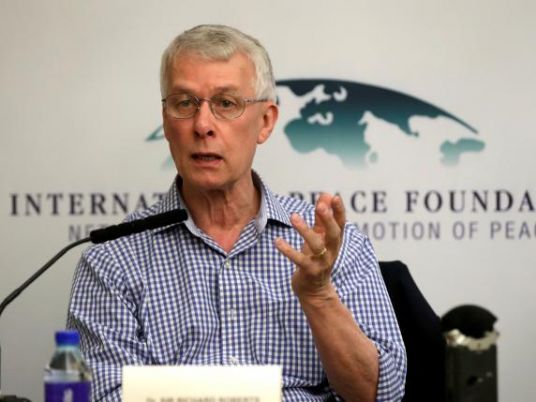 A group of Nobel laureates visited sanctions-bound North Korea over the last week despite objections from South Korea, saying they wanted to extend an olive branch by bringing non-political, academic diplomacy to the isolated nuclear-armed state.
North Korea is largely cut off from the outside world due to sweeping international sanctions imposed on it for its controversial nuclear program. The country tested its fourth nuclear device in January.
The government, fearful of foreign influences, also keeps a tight grip on what its people know about the outside world and their interactions with foreigners.
The three laureates — Aaron Ciechanover, Finn Kydland and Richard Roberts – arrived on April 29 for a program covering mainly academic exchanges at elite North Korean universities in Pyongyang, under the auspices of the Vienna-based International Peace Foundation.
Uwe Morawetz, the foundation's founding chairman, told reporters in Beijing after returning from Pyongyang, that before going he had met with South Korea's ambassador in Bangkok, where the group have their Asian office.
"We have been asked by the South Korean ambassador to postpone our visit until after the party congress, but we have not (been) asked to cancel the visit," Morawetz said, referring to the first congress of North Korea's ruling Workers' Party in 36 years, which opened on Friday.
"The problem was simply that the Nobel laureates are very busy people and we cannot just switch an event that has been planned for two-and-a-half years to another date this year," he added.
"So we made clear that we will go ahead with the visit but we have never been contacted by the U.S. government."
While on this trip they did not meet with senior North Korean politicians, Morawetz said he had previously met with titular head of state Kim Yong Nam, so he knew it had support at the highest levels.
The group were there to discuss medical and economic fields, not nuclear ones, Morawetz said.
Ciechanover, who won a Nobel prize for chemistry in 2004, said he was a doctor and so was not asked about anything remotely related to the nuclear issue.
"We didn't come to criticize them, we didn't come to ask about the meaning of democracy in their eyes," he said. "We really came to converse and to exchange dialogue with students."
Roberts, a 1993 Nobel laureate for medicine, said he had invited one of the students he met to spend time at his U.S. laboratory.
"Maybe the U.S. government just needs prodding," he said, of the chances he could actually get a North Korean student to the United States.