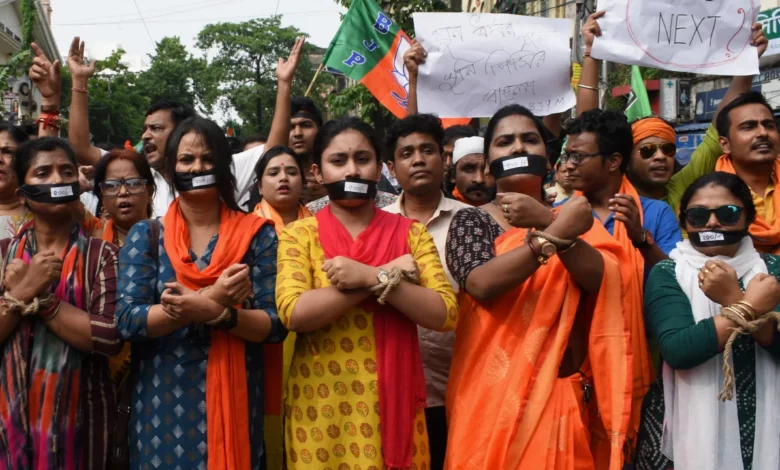 An even younger girl suffers a similar fate, allegedly at the hands of her own father because she and her mother wanted to sleep on the patio.
These two horrifying events took place within 10 days of each other in India last month, but Jayna Kothari, a senior advocate at the country's Supreme Court, said violence against women has been escalating for the past decade.
"For the last 10 years we've been seeing these gruesome murders and violent incidents. I don't think anything has been done much," said Kothari, who is known for her work on cases related to gender and sexuality.
That decade spans the years since "Nirbhaya," a 23-year-old student, died after being gang-raped on a Delhi bus in 2012. Advocates had hoped the shocking murder case would represent a watershed moment in India's approach to violence against women.
But while outrage in the more immediate aftermath of the attack did lead to stronger rape laws, Kothari and many others say in reality little has changed.
"The crimes are continuing but there's no visible action taken," Kothari said.
In fact, as others like Swati Maliwal, chairperson of the Delhi Commission for Women, point out, such crimes are becoming more common.
"The intensity of the crime, the frequency of the crime and the brutality of the crimes have gone up," she said.
'What has our society turned to?'
The most recent incidents are merely the latest in a long line of violent crimes that have triggered anger about whether the government is doing enough to protect women and punish attackers.
According to India's National Crime Records Bureau, crimes against women rose 87% over 10 years between 2011 and 2021 – with most cases in the latter year relating to alleged "cruelty by husband or his relatives" and assault.
CNN asked various arms of the Indian government whether there are any plans or strategies to crack down on violence against women, but has not received a response.
Kothari, the lawyer, believes authorities have become too complacent since Nirbhaya's fatal assault. Since the reforms that followed the case – which included broadening the definition of rape, raising the minimum punishment for the offense to seven years in jail and increasing the age of consent from 16 to 18 – she says there's been "a sense with the courts, police, the government, that now everything is being done."
But recent events show otherwise, she argues. Kothari points to the incident in Gujarat's Surat district on May 19, in which a father allegedly attacked his wife and daughter with a knife because they wanted to sleep on the terrace of their house, rather than inside, as evidence that domestic violence remains "a pervasive issue, even today."
"It hasn't been addressed," Kothari said. "In India, still, people don't want to talk about domestic violence."
She says the attack in Delhi, where people passed by as a girl was repeatedly stabbed by her male attacker, is especially worrying. She's concerned that it suggests a societal apathy towards violence against women and girls, or worse, acceptance.
"I think why the recent case is so shocking is it happened so blatantly in a public place," Kothari said. "It's almost as if socially, people don't see anything wrong. What has our society turned to that a young man can feel like he can do this, and people around are also OK with this?"
Learning to live with violence
In the absence of action, Kothari and other advocates warn that young girls and women will grow up believing such violence is to be expected.
"These crimes make them feel that it's not safe for them to be in relationships, to exercise their autonomy," she said. "What are we doing to protect the rights of young girls? Their right to be safe, their right to be free, and their right to be unafraid that these incidents are not going to happen."
Yogita Bhayana, founder of People Against Rapes in India, said it was "very unfortunate" that Indians had "learned to live with this kind of situation in our country."
Advocates say many cases go unreported due in part to a culture of victim shaming in what remains a highly patriarchal society and a lack of confidence in the police.
"The problem is vast. When we talk about gender violence, it's much bigger than what we think," Bhayana said.
Maliwal, chair of the Delhi Commission for Women, expressed a similar sentiment.
"Of course there is patriarchy, of course there is misogyny, and it is widespread," she said. "But what is the difference here is our politicians are not willing to commit and walk the talk. So they will blame the people when actually it is not the people but the systems that need to be blamed."
Another source of frustration is how slowly the wheels of justice can move in India.
Maliwal cited a case involving the rape of an 8-month-old girl in 2018 and the fact it was still working its way through the courts as reflecting the depth of the problem.
"How is it that an 8-month-old baby gets raped in 2018 and her case has not finished?" she asked.
Some campaigners say misogyny runs so deep in India's patriarchal society that the system fails all women, regardless of their status.
Maliwal pointed to recent protests by high-profile female wrestlers, who are demanding an inquiry into claims of sexual harassment by the Wrestling Federation of India (WFI) President Brij Bhushan Sharan Singh, who denies all allegations.
Following a weeks-long sit-in, police finally registered a case in April, four months after the initial complaint was filed. The wrestlers, including some well-known Olympians, continued protesting on the streets until last month when some were dragged away and detained by police who said they had failed to follow officers' orders.
Maliwal suggested their arrest further eroded trust in the police and justice system.
"Tomorrow, if a girl faces sexual harassment in the workplace, how will she be able to muster the courage to report the matter because she's already seen what happens when somebody reports the case?" she asked.
"When such big stars of the country … are not given justice, what hope is there for anyone?"