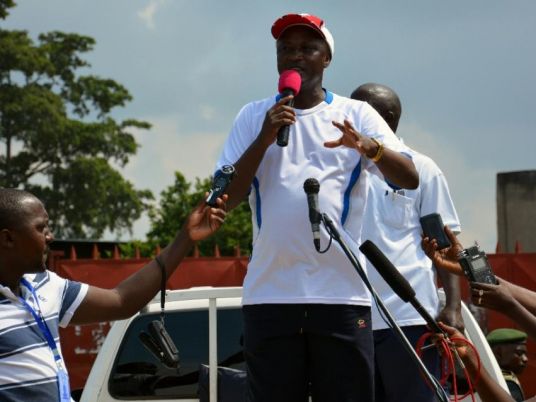 Rival Burundian factions said Tuesday that peace talks announced for January 6 would not go ahead on time, with no fixed date given for when they might take place.
The small central African country descended into bloodshed in April when President Pierre Nkurunziza announced his intention to run for a controversial third term in a July election that he went on to win.
After talks in Uganda last month, it was announced that talks would resume on January 6 in the Tanzanian city of Arusha.
But the Burundi government delegation said then that "no consensus" had been reached on the date, and presidential press chief Willy Nyamitwe confirmed Tuesday the government delegation would not attend the scheduled talks.
The opposition CNARED coalition also said it would not attend, with spokesman Pancrace Cimpaye saying delegates had "not yet received an invitation" nor been given any date for when the talks might go ahead.
CNARED presents itself as upholding the Arusha peace agreement that ended more than a decade of civil war in 2006, and which it says Nkurunziza has undermined.
There was no immediate response from Uganda, which has been mediating the talks and which had set the January 6 date.
Burundi is still recovering from an ethnically-charged civil war between majority Hutus and minority Tutsis, which cost an estimated 300,000 lives between 1993 and 2006.
The African Union has threatened to sanction those who fail to attend peace talks, as it pushes the government to accept a peacekeeping force.
"All those whose action could jeopardize the inter-Burundian dialogue, including attacks by armed groups against governmental facilities and other targets, as well as refusal to respond to the invitation of the mediator, shall be subjected to sanctions," AU Commission chief Nkosazana Dlamini-Zuma said last week.
The 54-member organization gave Burundi a four-day deadline on December 17 to accept a 5,000-strong force to halt the violence, pledging to send troops despite Burundi saying it was opposed to an "invasion force."
While the AU deadline has long passed, no action has yet been taken to deploy the force named as the African Prevention and Protection Mission in Burundi, MAPROBU.
Possible deployment of the force is expected to be a key part of talks in Ethiopia later this month, when the AU summit takes place on January 30-31.
At the talks last month, Ugandan President Yoweri Museveni, who is acting as regional mediator in the crisis, appealed to both sides, "to sit down and have a political solution so that you save the people from the suffering."