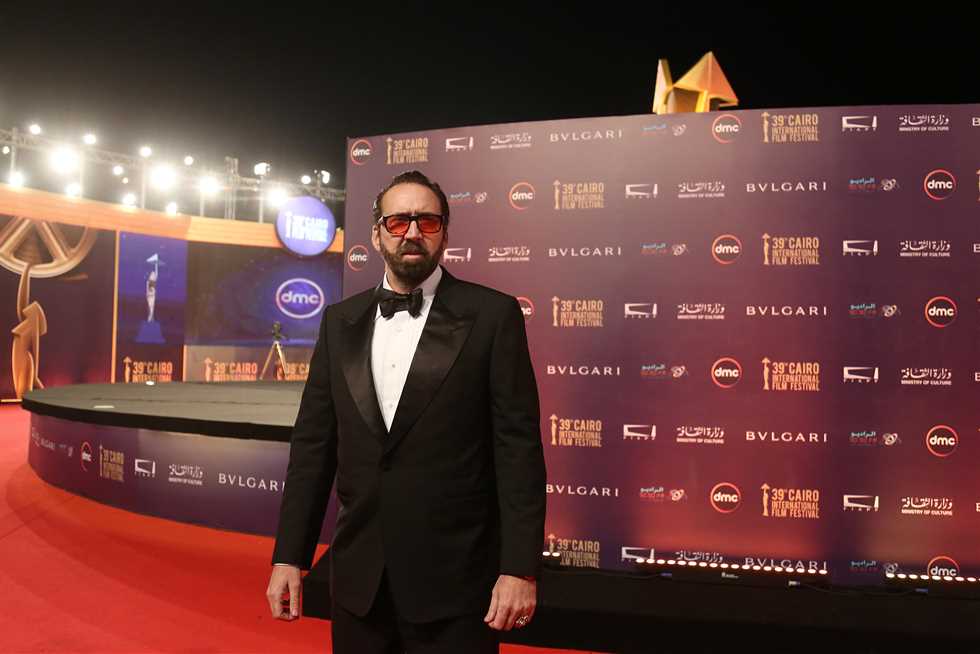 After nine days of splendid screenings and events, the 39th Cairo International Film Festival hosted its closing celebration on Thursday evening, with a host of Hollywood stars in attendance, as well as famed Egyptian, Arab, and international actors and actresses.
After spending their day at the pyramids, Nicholas Cage and Hilary Swank joined Adrien Brody at the closing ceremony in El-Manra Hall, located in El-Tagammo El-Khamis, or, the Fifth Settlement.
The opening speech at the ceremony spoke embracingly of art as the language of peace.
Throughout the closing ceremony, Nicholas Cage gave a speech, beginning – in Arabic – by saluting attendees, "Al Salam Alaikum", saying he was delighted to return to Cairo after several former visits attending different festivals.
Nicholas Cage's sensitive speech also addressed last Friday's terror attacks on worshipers at al-Rawda mosque, where he expressed solidarity, after his country was recently hit by "hard times" and terror of its own in Las Vegas. He emphasized that he was not afraid to be in Cairo despite the potential threat.
Over the past nine days, a host of activities took place across the festival, including movie screenings, various events, and an awards ceremony, where the 'Faten Hamama' Honorary Award was presented to veteran comedian Samir Ghanem for the role he has played in Egyptian comedy over the years. British star Elizabeth Hurley, Egyptian actor Maged El Kedwany, and Tunisian actress Hend Sabry were also honored by the same award
Beyond presenting honors, the festival screened top Hollywood movies including 'The Mountain Between Us', starring Kate Winslet and Idris Elba, and the film was showcased in the presence of the film's director, Hany Abu Assad.
Additionally, during the closing ceremony, the festival's administration announced that the Lebanese actress Diamond Bouaboud had been rewarded 'Best Actress' for her role in a film in Syria.
The 39th session of the Cairo International Film Festival was dedicated to honor the name of the late renowned Egyptian iconic actress Shadia who is known in Egypt as "Audience of the Masses". This session witnessed the screening of more than 175 films and the presence of 53 countries.