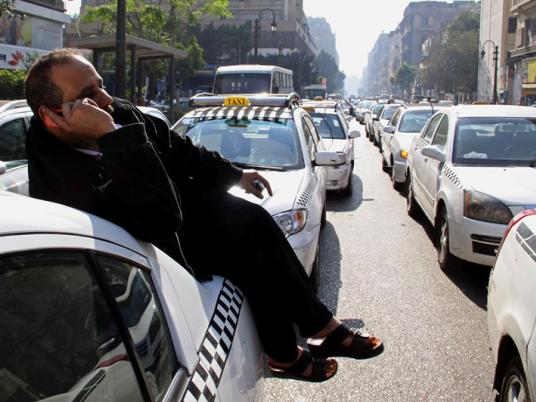 For Cairo residents, hailing a cab is not always easy. There are problems with meters giving incorrect fares, drivers taking longer routes to push up the price, drivers smoking heavily, not to mention sexual harrassment. Very often, cab drivers refuse to pick up potential customers in the first place, saying the destination is inconvenient.
"The white taxis are a nightmare," said Heba Hashem, a 23-year-old graphic designer. "Their service is irritating, drivers don't use the meter, they break it or overcharge for the fare. Moreover, they sometimes pick more than one customer at the same time to get more money."
Such problems have prompted many passengers in Egypt to switch to Uber and Careem mobile applications, which allow people to order a private car to any destination. Drivers pick customers up from their desired location, and many feel they're getting a better service, including honest fares and comfortable cars.
The rapidly expanding use of both Uber and Careem has upset taxi drivers, who have protested against them, claiming that they are "not constrained by the laws regulating taxis."
The protests started last week when a white taxi driver ordered a private car using the Uber application, with a view to drawing the driver into a trap. The cab driver took the Uber driver to the police station, demanding to see his license for providing such a service.
Speaking to Al-Borsa newspaper, Careem CEO Hadeer Shalabi said the company is registered as a technological company, and has its own tax registration, meaning that it pays tax on its overall revenues. However, he said the company is willing to pay additional taxes as a registered taxi service if the government requires them to do so.
The controversy surrounding unlicensed driving services has been prominent on social media.
Opponents of the new services argue that their reliance on private cars means they do not fall under any tax obligations, giving them an unfair advantage over normal taxi services.
Meanwhile, some Facebook users launched a campaign encourage the drivers of white cabs to improve the quality of their service as a means of regaining customer confidence and winning back business.
Many app users have gone online to express harsh criticism of taxi drivers and their protests, while several hashtags have appeared on Facebook supporting both Uber and Careem.
"White cabs? Yesterday, an Uber driver gave me a drink to entertain me during the ride," said one social-media user.
Talking with Egypt Independent, Samar Reda, a 24-year-old house wife, expressed her full satisfaction with both Uber and Careem services.
"I've tried both. There is no big difference between them, as the drivers are more than perfect, the cars are luxurious and comfortable," Reda said.
She pointed out that sometimes Uber drivers took a longer route to raise the fare. However, she said she was able to send negative feedback on one such journey, and within 24 hours the company gave her an LE8 refund and an apology.
"For me, Uber and Careem are much better than the white-taxi drivers, who have often refused to take me where I want to go. Also, it's safer for females, because you have the driver's personal information and cars details," said Reda.
In october 2015, the Sexual Harassment Map initiative announced a joint campaign with Uber Egypt to confront the phenomenon of sexual harassment. The project aimed to educate Uber drivers on the different types of sexual harassment, ensuring that they do not engage in inappropriate behaviour.
One recent convert to Uber is Bassma Yassin, a 26-year-old content quality specialist. In the old days, she would finish her working day be waiting for a taxi home. Carrying her toddler, she would stand in the busy streets of Maadi until a taxi driver finally agreed to take her to her home in Hadayek Al-Maadi, an area that many taxi drivers consider too congested.
"I remember one time in Ramadan, I was very tired and exhausted. I picked a taxi for a ride that usually costs LE12, but surprisingly he asked for LE20, with no real explanation. I agreed to give him the money because I had no energy for an argument," said Yassin.
"A friend recommended that I uxe the Uber service and I tried it," said Yassin. "It was stunning. The bill is cheaper than the white taxis, the drivers are more respectable than I had expected, and the cars are clean and luxurious."
Yassin tried Careem and liked the service too. She said that both Careem and Uber are safer than white taxis because both applications give the customer the car's registration number and model, along with showing the route on GPS.
"Since that time, I've been using Uber and Careem and I gave up on white cabs," Yassin said.
Abdel Azim Safaan, a 30-year-old designer, prefers Careem for various reasons, including the call-center service, which allows people to call for a cab without using a smartphone app, which is good news for people without a smartphone.
"Also, Careem's tariff is fixed, while the Uber one is variable, said Safaan. "Careem also offers a service that allows me to order a car to pick me up at a specific time, for an additional charge."
He feels that the only trouble with Careen is that they have fewer cars than Uber, although that situation may improve in time.
There are also a few opponents to the new services, including Ahmed Nasser, a human resources specialist.
"I don't support any of them," said Nasser. "The white Taxis are thieves, because they scam the meters and sometimes pretend it's not working. However, the Uber and Careem services are not licensed, and they make use of private cars, which is certainly not safe."
Nasser suggests that the government should take steps to ensure that the white taxis start providing the same sort of quality service provided by Uber and Careeem.
Meanwhile, Nouran Osman, a 25-year-old accountant, says she had a bad experience with Careem.
She said the "automatic location" function is not working properly on the app, which meant that the taxi she ordered didn't arrive at her exact location.
"The driver asked me to walk to where he was parked, which was frustrating, because I'm not ordering a taxi in order to walk. Also, I paid more than the exact fare, because the driver claimed that he had no change.
"So, I didn't find there was any difference between Careem and the white taxis," Osman said.