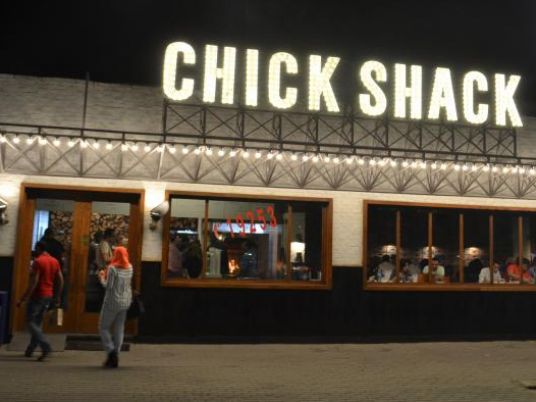 Zamalek is the birthplace of new restaurants in Cairo, where food outlets that offer fresh ideas open up for a few months — only to find them closed a few months later.
What this means is that if you don't go to Zamalek for a while, chances are the next time you go it will probably look different, and you'll probably find something new to eat. What's also great about Zamalek is that it generates a great deal of buzz around its restaurants, which means that good news tends to spread fast, including by word of mouth.
I heard about "Chick Shack", a new chicken-based restaurant, through a friend, who raved about it, heaping on the praise non-stop. So I decided to pay them a visit.
Located directly on 26th of July, the entrance to "Chick Shack" denotes a certain classiness. It resembles a bistro in 1920s New York, with a painted bare-brick wall and wooden-frames on its large windows. Inside, the decor employs a number of different references. Mounted above the counter where customers make orders, is the restaurant menu, which employs a trendy, minimalist style: black letters on a white background — instantly eye-catching.
More painted brick walls surround wooden tables that are a little bit cramped, with Aztec patterns painted on the ceiling and dispersed through the restaurant. The whole thing screams New York, something you would see on Gossip Girl.
The menu, while lacking variety, remains true to the restaurant's theme, offering only chicken and a number of side-items. The chicken is cooked in a large rotisserie oven, visible to customers behind a counter where side items are served open-buffet-style.
While there is not a great deal of variety to the menu, there are a number of unusual items that make the place really stand out, at least within Cairo.
For example, how many restaurants in Cairo can claim to make a good puttanesca pasta dish? The classic Italian sauce traditionally contains tomatoes, olive oil, anchovies, olives, capers and garlic, mixed with your pasta of choice. I have only had puttanesca a handful of times in Cairo, and for the most part, I didn't like it. However, Chick Shack adds tuna to the sauce, which I thought was a great improvement. The result is a more tasty and filly meal, the sauce moist and flavorful without being too fishy. I quite liked it.
For those of you who want to keep it clean, there a number of great salads on offer, as well as a variety of fresh juices. On the more indulgent side, there are some tempting side items: chicken cannelloni, lasagna and several varieties of rice.
The chicken meals range in price from LE45 to LE75, depending on the size of the portion (whole/half/quarter). Pasta dishes cost around LE30 on average, salads and side dishes around LE25.
The waiters only too happily inform you that their oven is the first of its kind in Egypt, and that it utilizes new technology that "slow-cooks the chicken evenly" while smoking it with fire that is fueled by "fruit-infused wood".
Apparently, it's the same type of oven used by American chicken-based franchise Boston Market. You can imagine my excitement. The waiter adds that the chicken is very low in fat, and I think I'm in love.
Since the chicken is already cooked when you order, there is little to no waiting time, great for those looking for a great meal with no hanging around. The chicken is tender all the way down to the bone; the skin is crisp and flavorful. The flavor of the meat is quite impressive, a sublimely spiced palate pervades every bite.
Chicken dishes are usually made interesting through the sauce, and in my experience, grilled chicken can often be bland, with monotonous flavors and textures. It's risky then, for a restaurant to make grilled chicken its central theme, but in this case, Chick Shack defies expectations.
The mashed potatoes are phenomenal too, instantly ranking in the top five best mashed potato dishes I've had in Egypt — soft but not runny, cooked with garlic and spices.
One dish that seemed below par was the alfredo pasta, another traditional Italian dish consisting largely of cream and cheese, but with chicken added in this case. The sauce was bland and needed salt, and there wasn't enough sauce for the amount of pasta served up, making for a rather dry meal. The chicken in the pasta was not from the rotisserie and was significantly less flavorful, so much so that I did not finish the dish.
One thing I didn't like about Chick Shack was the lack of space. I went on a busy day, there was a lot of noise. I was often disturbed by people getting up or being seated.
One advantage of the small space, though, is that it is easily kept clean. In fact, the general cleanliness of the restaurant was acceptable.
If there was one shocking downside to the place, it was the total lack of desserts. I mean, I know it's all about the chicken — but no desserts? That doesn't seem right.
Overall, my experience with Chick Shack was good. I would definitely go again and have already recommended it to a number of friends.