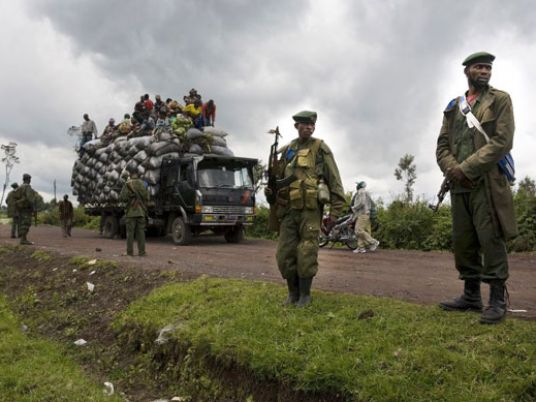 The commander of Congolese government troops fighting Ugandan Islamist rebels in the restive east of country was killed in an ambush on Thursday, the government said.
"Colonel Mamadou Ndala has been killed… Apparently it was the ADF-Nalu (Ugandan rebel force) that killed him and two of his bodyguards," government spokesman Lambert Mende said.
"This is really an immense loss for the armed forces and the republic," Mende told AFP.
Ndala was travelling between towns in strife-torn North Kivu province, "for the deployment of a commando battalion when his jeep fell into an ambush," Mende said.
The attack was apparently the work of the rebel Alliance of Democratic Forces and National Army for the Liberation of Uganda (ADF-Nalu), which is one of the oldest armed movements active in eastern DR Congo, military and UN sources said.
"Just when we arrived at Matembo, a rocket came in from the right-hand side of the road and struck our jeep, which was mounted with a heavy weapon," Corporal Paul Safari, a bodyguard to the colonel, told AFP near the scene.
"I began shooting until I ran out of ammunition, but the aggressors were still advancing," he added.
A senior officer in the UN mission in the DR Congo known as MONUSCO, which is providing the army with military and logistical support, confirmed the ambush "probably by the ADF-Nalu against the FARDC (Congolese army)."
"The situation is complicated," the officer said without elaborating.
ADF-Nalu was created in the mid-1990s in western Uganda out of the merger of two armed groups opposed to the regime of President Yoweri Museveni, in power since 1986.
The rebel force last week killed 40 civilians in a grisly attack in the northeastern Beni region of DR Congo, when they raped women and hacked children to death, dumping bodies in latrines, according to local officials and MONUSCO, which sent attack helicopters on a retaliatory raid.
The rebels have been led since 2007 by Jamil Mukulu, a former Christian who converted to Islam, and they are considered to be the only Islamist movement active across the border in DR Congo.
The United States put ADP-Nalu on its list of terrorist organisations in 2001 and Mukulu has been targeted by UN sanctions since 2011 and European Union sanctions since 2012.