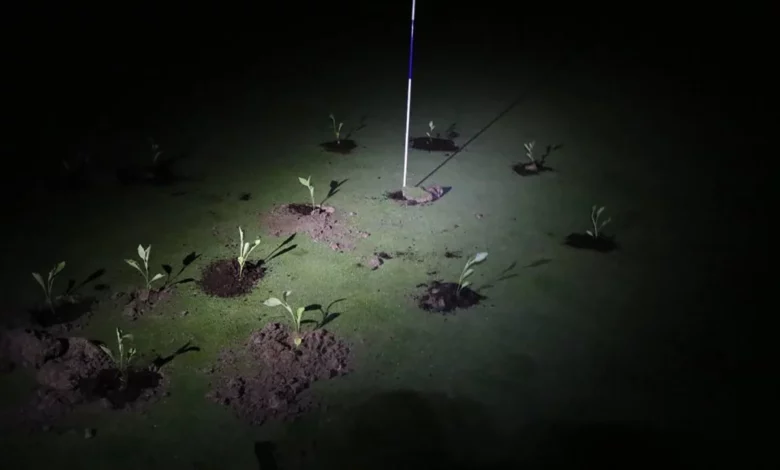 CNN
 —  Climate activists have targeted 10 golf courses
around Spain
, plugging up holes to protest the amount of water used to maintain these courses as the country is
gripped by a severe drought
.
Members of Extinction Rebellion (XR) Spain, along with activists from other climate groups, accessed golf courses in locations in six provinces, including Madrid, Valencia, Ibiza and Navarra. Some groups used cement to fill the holes, others planted seedlings. Protesters also unfurled signs with phrases such as: "Alert: Drought! Golf closed for climate justice" and "water is a common good."
Golf in Spain uses more water than the cities of Barcelona and Madrid combined, XR said in a video posted on Twitter on Sunday. One hole on a golf course requires more than 100,000 liters (22,000 gallons) of water a day to maintain the area around it, according to XR, which cited data from Spanish non-profit Ecologistas en Acción (Ecologists In Action). Only 0.6 percent of the population plays golf, XR said.
In a statement, the group said the aim of the action was "to denounce the waste of water in the context of one of the worst droughts that Europe has suffered."
XR said it wanted to point out the "cynicism of continuing to allow this type of elitist leisure while Spain dries up and the rural world suffers millions in losses due to the lack of water for their crops."
Spain has been in a long-term drought since the end of 2022, with conditions exacerbated by soaring temperatures. In April, temperatures in the city of Córdoba reached 38.8 degrees Celsius (101.8 Fahrenheit), the highest April temperature ever recorded in mainland Spain. And in late June, temperatures soared to more than 44 degrees Celsius (111.2 Fahrenheit) in parts of the country.
The drought has had far-reaching impacts. Some reservoirs sunk to less than 10 percent of capacity, millions of hectares of crops across the country have been lost and some towns and villages have been forced to to rely on trucked in water.
Between June 1 and 10, 60 percent of Spain was under "drought alert" conditions, according to the European Union's Copernicus Climate Change Service.
XR, which is demanding restrictions on golf course water use, said its actions are part of a broader fight against the richest 1 percent, which will also target the use of private jets and large polluting cars. The group said it wanted to make it clear that "the rich and their leisure activities that waste essential resources are a luxury that we cannot afford."