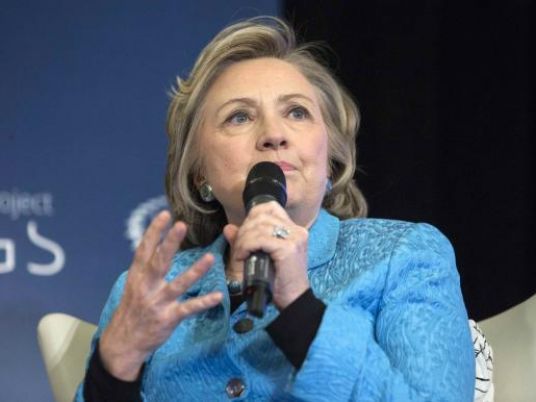 Democratic presidential candidate Hillary Clinton pledged Monday to take on the powerful US gun lobby, saying she would pursue expanded background checks and take steps to hold manufacturers accountable for crimes committed with their weapons.
Clinton was at a town hall in Manchester, New Hampshire, to unveil her plan to curb gun violence just days after a gunman killed nine people and wounded another nine last week on the campus of Umpqua Community College in Roseburg, Oregon.
At times on Monday, Clinton's voice cracked as she talked about the toll gun violence has taken on US schools, movie theaters and other public spaces. She asked Nicole Hockley, an audience member whose 6-year-old son Dylan was killed along with 19 other children and 6 adults in a 2012 shooting at a Connecticut school, to speak briefly.
"How many people have to die before we actually act, before we come together as a nation?" Clinton asked the audience at the New Hampshire community college, which she said was similar to the Oregon campus.
At the top of Clinton's list are expanding background checks, repealing legislation that protects manufacturers and dealers from liability, and strengthening punishment for straw purchasers who buy firearms for others.
Clinton has not minced words in recent days, saying she wants to build a "national movement" to counter the influence of the National Rifle Association, the nation's top gun-rights advocacy group.
The NRA is among the biggest spenders on US politics. The organization dumped $28 million into the 2014 election cycle to pay for communications promoting the right to bear arms, the candidates who support it and against candidate who favor restrictions, according to OpenSecrets.org.
Clinton questioned in Manchester whether there was a better way to preserve the constitutional right to bear arms while also getting "military-style assault weapons" off streets.
"What I would love to see, is gun owners, responsible gun owners … form a different organization and take the Second Amendment (of the US Constitution) back from extremists," Clinton said of the NRA to applause.
The NRA did not respond to a request to comment on Clinton's remarks and proposals.
Clinton's campaign on Monday released detailed proposals about what she would do to curb gun violence if elected to the White House in November 2016.
Clinton would use presidential executive authority to close a "loophole" to ensure people purchasing firearms at gun shows and online face the same background checks and sales taxes as buyers from traditional retailers.
Clinton would push Congress to prohibit domestic abusers, including stalkers, from purchasing guns and close what she called the "Charleston loophole," referring to a June shooting at a predominantly black church in South Carolina that left nine dead.
If a background check is not completed within three days, a sale can proceed. The alleged Charleston shooter could buy his gun because of this loophole, as did 2,500 people in 2014, Clinton's campaign said.
Clinton also said she would pursue the repeal of a 2005 law that she voted against as a U.S. senator representing New York. The legislation prevents victims of gun violence from holding negligent manufacturers and dealers accountable for crime committed with their guns.
"Nobody else is getting that immunity – and that just illustrates the extremism that has taken over this debate," Clinton said.
Demand for firearms surged in the past when consumers feared gun control legislation was coming. On Monday afternoon, Smith & Wesson (SWHC.O) shares were up 5.1 percent at $17.44, and Sturm Ruger & Co (RGR.N) had risen 2.7 percent to $57.99.
Clinton said her proposals were not new: "There's nothing unique about them, other than I am so determined to do everything we possibly can."