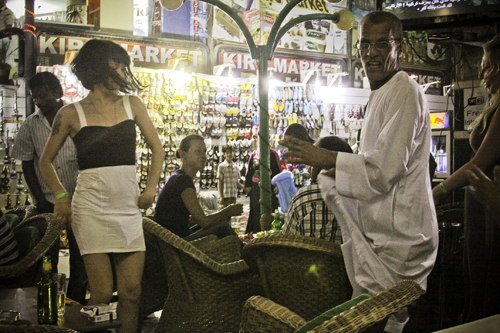 On a typical evening at the Spicy Cafe in Hurghada, camera phones snapped shots of an unlikely pair: a local man robed in a white galabeya and a Russian tourist clad in a short dress and pumps, caught in mid-dance. Customers and staff members, and even pedestrians outside the popular waterhole, stop to watch as the man brazenly lifts and twirls the woman in his arms.
"Hurghada is not Egypt," says onlooker Leela Abubekarova, a 27-year-old diver from Moscow now living in the Red Sea town. Two decades after the dissolution of the Soviet Union that lifted a rigid travel ban barring citizens from foreign travel, Egypt has become a popular and affordable destination for tourists from Russia and other post-Soviet states.
Hurghada is swamped with ads, signage and menus written in Cyrillic, while its waiters, touts and taxi drivers haggle and argue in Arabic and Russian. But only in the last decade has an ostensible community of Russian expatriates in Hurghada emerged.
"Today a tourist, tomorrow a resident," says Abubekarova. An industry built on cheap charter flights and all-inclusive resorts combined with lenient visa restrictions and inexpensive overstay fines has allowed for more frequent travels between Russia and Egypt and temporary to long-term residence.
According to MK in Egypt, a bimonthly newsletter based in Hurghada and an offshoot of the 93-year-old Moscow daily standard, Hurghada hosts the largest number of Russians residents in the country.
"Officially, there are 3,000 documented Russians living in Hurghada, but unofficially there are more than 20,000," says the newsletter's publisher, Yulia Shevel.
She and her family moved from Moscow to Hurghada in 2003, where today, their children attend a co-curricular program at a local Russian school where they learn about their Russian heritage, traditions and language.
"For many Russians, coming to Egypt is easy — easy to fly, easy visa, and good for real estate. A lot of families who have properties in Moscow and rent out their flats get somewhere around US$1,000 per month and by this a family can live perfectly in Hurghada, where there's fresh air and sea and sun all year," says Shevel.
But Russian businessman Andrey Alexandrov claims that Russians have limited rights compared to Germans and any other European community in Egypt.
"Usually, Europeans can get a visa minimum three months to half a year. Russians and Ukranians have an agreement to get a visa for one month maximum, after that they have to leave the country," he explains. "Of course, everybody breaks this rule because the law helps tourists to do it, and thank the government or else we'll have to spend too much money on airline tickets. Russians just break the rule and pay the penalty of LE150 when they leave the country. So until now we don't understand why there are limits for Russians, although we have the number one position of tourism here."
Alexandrov and his wife have been residents in Hurghada since 2006 and own Famous Bar, one of the only joints that serves Russian cuisine, and where every Tuesday, Russians and their friends convene for a cultural night complete with a Leninist flag, Russian karaoke, comedy, games and door prizes.
The majority of Russian expatriates in Hurghada aren't families, however. Most Russians in Egypt are single women working in tourism or retiring in a balmy beach town, where leisure and companionship for foreign women are common and accommodated by the questionable process and documentation of an urfi marriage. Urfi marriage does not constitute an official marriage contract but rather a commitment before witnesses, conducted with a Muslim cleric or storefront lawyer for a nominal fee. The validity of urfis remains unclear, as some businesses and hotels refuse to recognize them.
How a babushka got her groove back
Sitting at Spicy Cafe in a coral summer dress, Nina Abdullina inhales a drag of peach shisha, and a coy grin forms under her snowy bangs. When the 78-year-old is asked what her secret is to maintaining her youthful appearance, she responds simply: "Egypt."
Abdullina moved to Egypt in 2007, after leaving her teaching position at Moscow University and her colleague and husband of 40 years. Since then, the great-grandmother has been through two marriages with Egyptian men, both less than half her age.
"I was married because it's difficult to live alone here in a Muslim country. The first marriage was a mistake of course, so I divorced very quickly. But the second one was happy. My husband was a lawyer, 32 years old, very kind, very honest," she says. "He was so good that Allah took him. He died in a car accident two years ago. I can't believe up to this day that he's dead. But Egyptians they take it easy. He's there in the sky and he's happy. This religion helps to carry these tragedies."
Today, Abdullina says she is content living alone and enjoys her job tutoring Russian women in Egyptian Arabic and teaching English and German to children of mixed Russian-Egyptian families. An avid swimmer and nightly bar hopper, Abdullina boasts a healthy physical and social life in Egypt as opposed to her former life in Russia.
"I was really ill with high blood pressure in Russia and I wanted to leave. My husband was against it, so I had no choice. I divorced him and left. So after one year of swimming slowly everyday in the Red Sea, 700 meters there and 700 meters back, I felt so healthy. I'm really so sorry I came late to Egypt," she adds. "But it's ok."
Abubekarova and others agree that what Pattaya is to Russian men, Hurghada is to Russian women. Pattaya, a sea town in Thailand, is notorious for its sex tourism.
'I feel like a woman here'
But Svetlana from Samara, Russia disagrees. The 28-year-old working in guest relations at a resort in Hurghada is optimistic about Egyptian and Russian marriages, saying, "Most of the time everyone wants to talk about the bad stuff. But it depends on the type of people you meet. There are people I know who have been together for 10 years and are happy together."
Walking through Hurghada, one easily encounters local men hand-in-hand with foreign women and the occasional stroller carrying a Russian-Egyptian baby. Svetlana, who has been in Egypt on and off for the last three years, anticipates marrying her boyfriend.
"Egyptian men have a special trait," she says. "They take responsibility for themselves. It's not like in Russia or Europe where everything is half-half. No, he tells me you work as you want and make money and spend it as you want but don't worry about anything else. If there's a problem it's not yours. I feel like a woman here."