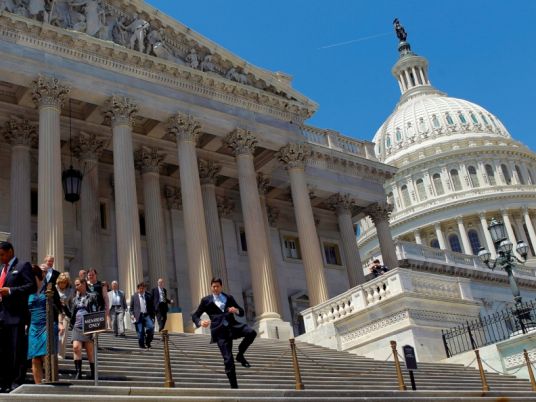 A group of conservative US congressmen have announced the creation of a caucus to push for improving US-Egyptian relations and continued aid under Egypt's new government led by President Abdel Fattah al-Sisi.
The "Egypt Caucus" held its first press conference on Wednesday, where the representatives expressed their support for Egypt, yet stressed that they would still monitor human rights abuses under the military-led government.
"Egypt has been a staunch US ally in the battle against terrorist tyranny," said co-chair Rep. Dana Rohrabacher. "The Egyptian people came close to being captured by a radical clique bent on ruling the country with the kind of fanaticism that has destroyed the freedom of so many Middle Eastern nations."
Rohrabacher, a Republican who led a congressional delegation to Egypt in January, was joined by Democrat Rep. Loretta Sanchez, who once lived in Egypt. Both representatives hail from California. Other members of the caucus include Rep. Michelle Bachmann from Minnesota, as well as Rep. Steve Stockman and Rep. Louie Gohmert, both from Texas.
"I decided to co-chair this caucus because I saw a significant need for more discussion and information about Egypt, one of our nation's significant strategic partners," said Sanchez, who is the only Democrat in the caucus.
The creation of the caucus, however, hasn't been met without controversy as most of the members are conservative Republicans who have voiced strong support for Sisi. Critics accuse the group of being on an anti-Islamist crusade to appear strong against terrorism and gain votes in their conservative home districts.
Bachmann, who led a previous conservative congressional delegation to Egypt, has since taken a less public role in the delegation after a series of controversial statements, in one of which she falsely lumped Al-Qaeda and the Muslim Brotherhood together, hinting that the Brotherhood was behind the 11 September 2001 terrorist attacks.
Bachmann was also heavily criticized for her Islamophobic scare tactics when in 2012, Bachmann accused Huma Abedin, an Arab-American who was working as Deputy Chief of Staff under Secretary of State Hillary Clinton at the time, of being a secret Brotherhood operative who had penetrated the US government and was sending information to the Egyptian government.
"We need this caucus now more than ever," said Bachmann. "What President al-Sisi is trying to do, quite frankly, is to set Egypt on a positive path toward prosperity and growth and peace in the Middle East region."
Though many representatives in the US congress support Egypt's Sisi-led government, many have been very critical of the developments following the military ouster of President Mohamed Morsy, including the violent dispersal of Rabaa al-Adaweya and Nahda squares, the anti-protest law, the jailing of human rights activists and journalists, as well as the mass death sentences for Brotherhood members, who were the country's only viable political opposition.
Al-Monitor
reports protesters from Code Pink, a women-initiated anti-war movement, gathered outside the press conference to protest the United States' annual US$1.5 billion aid. The women yelled at Sanchez, "You shame California!" for what they accuse her of lending legitimacy to the all-conservative coalition.
"The purpose of this caucus is not to take any one side, but to promote dialogue and understanding within the House of Representatives and to engage in deeper discussion on issues and developments in Egypt. I hope this caucus will provide a bipartisan and open venue for Members to provide their perspectives," Sanchez said.
During the press conference, Rohrabacher tried to quell fears that the purpose of the caucus was merely to show full-fledged support for what critics fear could be a new military dictatorship.
"I also want to make clear," said Rohrabacher, "that we are not asking for Egypt to be given a blank check. We will stand with the new al-Sisi government as they continue to build a functioning state that reflects the rights of minority religious groups and allow for a free press. There is reason for hope that the case of imprisoned journalist Peter Greste, and the five other journalists, will soon be resolved and allowed to leave Egypt."
Meanwhile, Rohrabacher has been a heavy advocate for speedy delivery of US weapons to Egypt, saying the delay of spare parts to Apache helicopters has impeded Egypt's war on terror in the Sinai, though military analysts disagree over the effectiveness of these weapons used in counter-terror operations.
"President al-Sisi and his government," he said, "are a source of hope for the people of Egypt and the Middle East. Prosperity, democracy and human rights are not out of reach in Egypt. If this government succumbs to radical rule, it will be a profound blow to the people of Egypt and to all free people everywhere. We will stand or fall together."