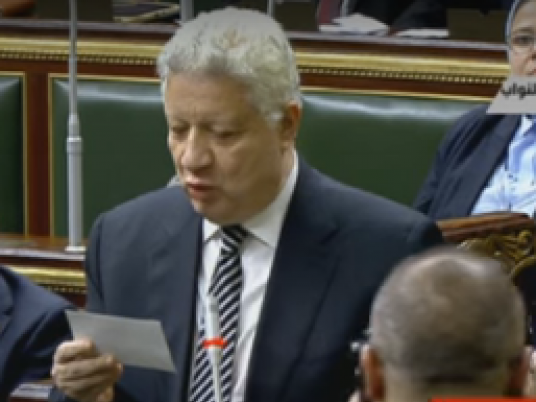 The head of Egypt's renowned sports club Zamalek and Member of Parliament Mortada Mansour said that he will run in the upcoming presidential election scheduled for March.
The 65-year-old said in a phone interview on Saturday evening to the privately-run TV channel Sada El-Balad that he will head to the parliament on Sunday to collect authorizations from members of the chamber.
He further noted that in case of failure to collect authorization from MPS, he will resort to collect authorizations from Egyptians during electoral tours that he plans to conduct after submitting the necessary documents.
Egypt's 2014 constitution stipulates that any Egyptian citizen who also has Egyptian parents and is above 40 years of age can run in any presidential elections. They must also collect authorization from either 20 MPs or 25,000 Egyptian citizens.
Mansour, considered one of the most controversial public figures in Egypt, asserted that if elected as the president, his first decision would be the suspension of Facebook.
He added that his electoral program would also consider the current Grand Ethiopian Renaissance Dam crisis as a 'Red line' that is closely related to Egypt's national security. He added that his program would pay attention to other problems related to education and healthcare.
Last week the High Electoral Committee (HEC) in Egypt set the timetable for the presidential race: Egyptians abroad will vote on March 16, 17, and 18, while in Egypt, voters will take to the polling booth on March 26, 27, and 28.
The Committee will receive applications for candidacy from January 20 to 29, and the initial list of candidates will be announced and published on January 30 and 31. Appeals will be received on February 1 and 2, for those who are not considered legible.
Egypt now has two official candidates in the election — Mortada Mansour and leftist lawyer and labor activist Khaled Ali. Ali spearheaded a successful court case against the government's decision to hand two Red Sea islands to Saudi Arabia in 2016. However, the court decision was eventually overruled by parliament. He announced his decision to run in the elections on Thursday.
On Thursday, the former military chief of staff Sami Anan's Egyptian Arab party said he would run.  A press conference will be held within days with an official decision on whether Anan will contest the elections.
Current President Abdel-Fattah al-Sisi has not personally declared that he will run in the elections, though over 500 MPs in the parliament signed support for him to run again.
Further, a campaign called 'Ashan Nebniha' (So We Can Rebuild Egypt,) has been launched all over Egypt to support Sisi running for a second term.