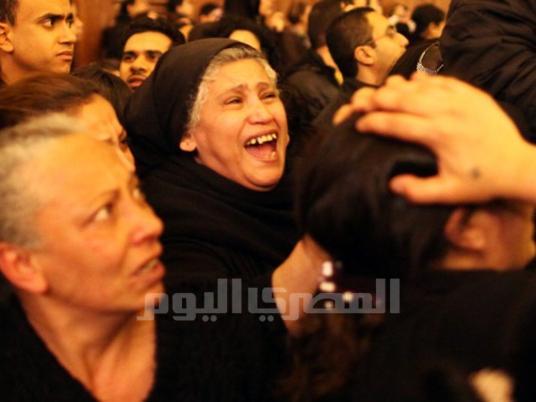 Thousands of grieving Copts flocked to St. Mark's Coptic Cathedral in Abbasseya on Monday to bid farewell to Pope Shenouda III, who has been lying in repose on the Saint Mark throne since Sunday.
On Monday, the church held a second mass, with the participation of the 117 bishops who form the Coptic Orthodox Church's Holy Synod. Among them were bishops from Coptic churches in Europe, the US and other countries who will attend the funeral on Tuesday, state-run news agency MENA reported.
Despite calls by the bishops for lessening the crowds inside the cathedral, mourners pressed forward to have a final look at the body of the late pope. Eyewitnesses at the cathedral said the scene on Monday was more orderly than on Sunday, when two elderly mourners died of suffocation in the large crowd.
Thousands of Copts spent the night in the cathedral yard, waiting to get inside and pay their last respects to the pope, according to Al-Masry Al-Youm.
The pope was initially laid in a coffin and later seated on a ceremonial throne, wearing gold and red embroidered religious vestments, with a golden miter on his head and holding a gold-topped staff.
The Holy Synod announced on Sunday that the funeral prayer will take place on Tuesday at 11 am at St. Mark's Cathedral.
A large number of political figures from Egypt and abroad are expected to attend the prayer, including those from Egypt's largest political organization, the Muslim Brotherhood.
After the prayer, the body will be buried in the Saint Bishoy Monastery in Wadi al-Natrun, 100 km outside of Cairo.
Arrangements are currently taking place in Wadi al-Natrun, located in Beheira Governorate, to receive the pope's body, which will arrive on board a military plane.
Wadi al-Natrun's city council, along with military and police troops, provided the runway and the monastery building with the required lights, also readying the road leading to the monastery to receive the masses expected to come, according to Al-Masry Al-Youm.
Shenouda asked to be buried at the monastery, a favorite place of his, in his will.
Shenouda spent many years earlier in his life at Saint Bishoy Monastery. He was also exiled to the same monastery for more than six years after clashing with late President Anwar Sadat. In the year before his death, the pope spent three days per week there.
The monastery is also considered one of the most important archaeological sites in Egypt, dating back to the 14th century. The largest monastery in Wadi al-Natrun, it is made up of five churches.